3 Island Views – SOLD! – Albert & Michael *Exclusive Agents* – Saba Island Properties
St. Maarten – St. Barths – Statia – 3 Natural Gifts You Get When You Buy This Land
Plus – sensational beauty from the dramatic green hills to the miles of deep blue Caribbean Sea and – blazing sunrises like this header photo I took at 6:20 am on a Thursday, watching the night sky change into warm shades of blue morning with huge white clouds.
* 799 Square Meters of Land *
We Knew this Land Would Sell Fast!
– Road access for easy building and connection to utilities
– Off-road parking space
– Cinder block shed
– Safe neighborhood
3 Island Views

is a unique and appealing piece of land to build your dream home and
create meaningful, lasting memories.
Here's what the owners told us this about their property:
"What we love most about Saba are the breathtaking views, lush vegetation, and
the warm and inviting community.
Whenever we're on island, we feel we are home.
Our land is the perfect spot to build a new home amidst the quaint village of Lower Hell's Gate.
You can have privacy and be part of an inviting community.
This parcel of land holds a cherished childhood memory of having one of the sweetest mango trees."
♦
This is your affordable opportunity to be part of Saba and live in Paradise on your own Caribbean island.
That's the dream you can easily fulfill.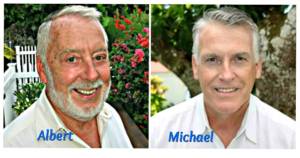 Saba (+599) 416 – 2777
Emails:  Albert@sabaislandproperties.com  or  Michael@sabaislandproperties.com