Why Not Buy and Share a Home with Other People On Saba? – Albert & Michael – Saba Island Properties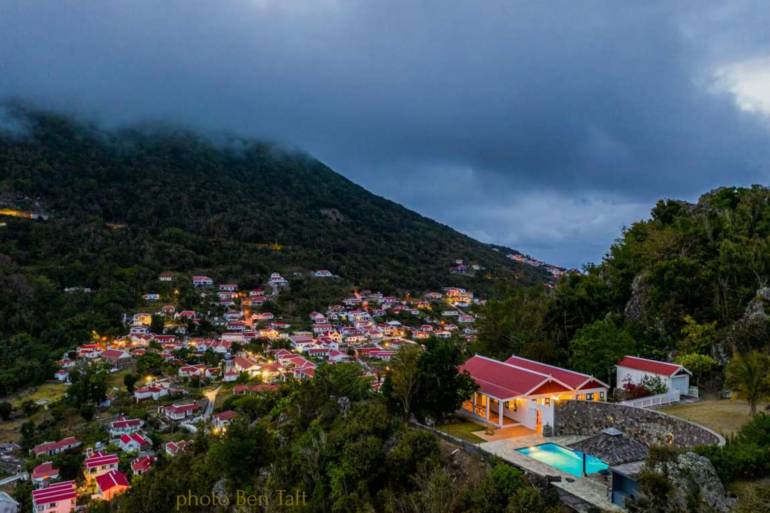 We call it – 

Buy and Share Home Plan

(B+SHP)
It's an alternative for you. A solution. An exhilarating idea for our tribes. 
This proposal came out of a conversation we had with a wonderful couple we're working with to find them the right piece of land they can buy and build on. They told us how much they love Villa Fairview on Saba (and rightly so) but their current budget won't allow them to buy it alone. So… they're wide open to sharing — jointly investing with 2 or 3 other people to make that happen. 
Why not create a partnership and buy a house with other people?
Why not pool your money — share your budget with others and — build a larger budget?
Haiku House has three owners who have been doing exactly this since they first built their gorgeous retreat on Troy Hill.
You can do it too by connecting with like-minded and like-hearted people who also love Saba and its remarkable lifestyle.
When you Buy and Share you're building a culture of collaboration and good-will — friendliness, helpfulness, fellowship, gratitude, trust.
It's team work in a compassionate and concrete way.
What do people share?
People share their lives together in relationships and marriages, share awards, learning and teachers, skills, talents, experience, beliefs, public transportation, car pooling, bank accounts, birthdays, offices, apartments, jobs, businesses, raising children, promoting an idea and in this case — it's to live in comfort and joy on Saba by mutually owning a house.
Affordable – Practical – Flexible – Smart – Authentic – An innovative approach to owning a home on Saba. Not just a pipe dream but a reality. Where people go halves or thirds to own a home like:
And the same is true for other compact vacation homes as combo investments:
Make it your own time share
An arrangement whereby a few combined owners have the right to use a home under a time-sharing system. Book your time of year to live on Saba with family and friends. What value for you!
When a timeshare property is owned it is a deeded ownership. It's considered 'real' property. Legal property. It can be rented, sold, and inherited just like traditional real estate. (It started back in the 1960's.)
Make it your own co-op
Where individuals or families work together to directly own a building or land or construct their own homes in a cooperative fashion. Unselfishly working side by side towards the same goal because you want to and may not be able to do it by yourself. 
You're no longer renting some place to visit and live. You join forces and own the bricks.
Becoming a

Saba Insider
Somewhere you've already done this
Think about a specific time in your life when you shared something and it worked out great for you.
What was it?
How did it work?
What did you do to make sharing this thing succeed?
How did you feel sharing?
If you have been successful at sharing, do it again now.  Make buying a home with other people work.
Albert and I once shared a weekend home on Long Island with two other people. Every other weekend we had the house and yard all to ourselves so we could step away from the ridiculous, hyper pace of New York City. We mutually shared the costs and responsibilities of keeping the house clean, doing the laundry, watering the plants, maintaining supplies. It encouraged respect and interest for each other and the property. We cared about the condition we left the house in. We learned how to give and, we got many benefits from sharing.
People like us do things like this.
What happens to you when you share?
Are you more yourself or less yourself when you share?
Stronger or weaker when you split something?
Foolish or wise to give?
Grateful or resentful to be joined to other people?
Poorer or richer in spirit?
How does generosity and selfishness show up in your life and work?
'Real unselfishness consists in sharing the interests of others.' – philosopher, novelist – George Santayana
Here – we made this for you 
Now that our – Buy and Share Home Plan – is out there with this Blog post — give yourself permission to share!
Join our list of buy and share home people. It just makes sense to go 50 – 50 or… go Dutch, as they say.
There's a Saba movement for this exclusive island retreat and the Buy and Share Home Plan works because some people are adventurous to travel abroad and eager to invest in a second home. Remember – Saba is easy to get to from Canada – Europe – the USA – Affordable – Safe.
B+SHP  is not for "everyone" but, it is for the select group of people who are enrolled in the Saba experience. Who understand and love the island of Saba. Who know Saba's multiple values, benefits and gifts stand for who they truly are and how they want to live their lives. 
We'll help you find the others, assist with the paper work and also… manage your home for you. 
The meaning of philanthropy is important here. Derived from the Greek word – Philanthropia – "benevolence, generosity, humanitarianism" and Philanthropos  "loving mankind, useful to man."
Sharing a home seems like an ordinary thing but don't you think it makes the world a better place to live in?
It's a collective enterprise needing other people. The conscious choice to be useful and united and to have a good effect on your fellow man.
♦   ♦   ♦
Saba (+599) 416. 2777 / +1 . 631 . 604 . 4435 / Skype: saba.island.properties
Emails:  Albert@sabaislandproperties.com  or  Michael@sabaislandproperties.com