What Is the Most Important Investment We Make at Saba Island Properties?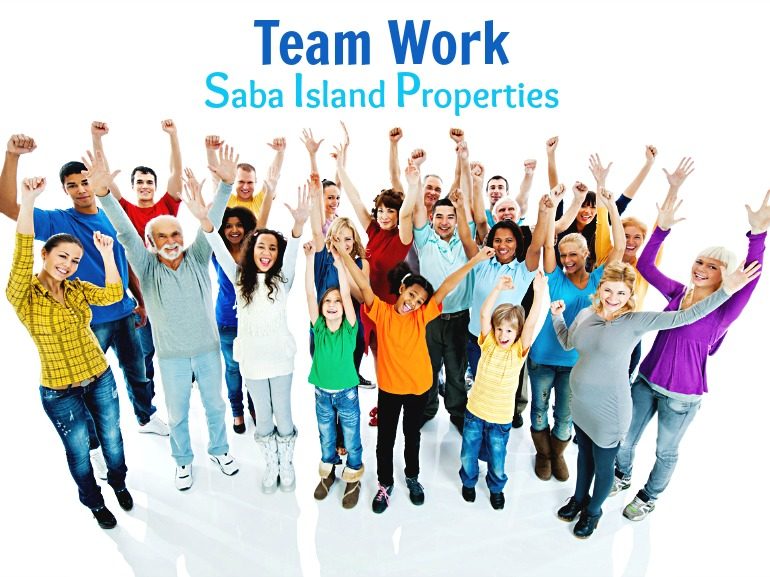 Team work — Investing in people who help us to be successful every day in our job at Saba Island Properties — that's the most important investment we make. With team work we make a difference — doing the absolute best work we can together — doing it better than we did it yesterday.
We have a great team!
Contractors, carpenters, housekeepers, plumbers, pool workers, tilers, stone masons, gardeners, painters, chefs, electricians, taxi drivers, store owners, event planners, restaurateurs. All kinds of people lending a hand. Leading with their knowledge, skills and experience. Each person is a champion and we're immensely grateful for everyone's expert service and trust.
It's never about others doing the work and we take all the credit.
Partnership
Collaboration
Respect
Helping
Giving
Communicating
Learning
Growing
Solving problems
Creating
Gratitude builds teams. Job pride builds teams. Happiness builds teams.
What destroys team work?
Ego
Competition
Disrespect
Selfishness
Negativity
No commitment
Arrogance
Laziness
Not showing up
Lack of trust
Why would you ever choose to work with toxic emotions that don't nourish you or your team?
You always have a choice.
– The choice to do the kind of work you want to do
– The choice to create quality work
– The choice to work with people you like
– The choice to live the way you want
The 'fellow feeling' in team work; the rapport and respect we have for our colleagues, peers, friends and family are crucial elements we strive to maintain and enhance.
5 ways to build successful team work.
1. 'Individual commitment to a group effort — that is what makes a team work, a company work, a society work, a civilization work.'
— Vince Lombardi
2. 'Talent wins games, but team work and intelligence win championships.'
— Michael Jordan
3. 'Team work is the ability to work together toward a common vision. The ability to direct individual accomplishments toward organizational objectives. It is the fuel that allows common people to attain uncommon results.'
— Andrew Carnegie
4. 'Alone we can do so little; together we can do so much.'
— Helen Keller
5. 'Coming together is a beginning. Keeping together is progress. Working together is success.'
— Henry Ford

Saba Island Properties is absolutely here to make a living; to win a sale but, we're going after building a living that makes a difference for individuals and most assuredly a difference for the community and the world.
Some of our work is answering basic questions people have about life on Saba, the cost of renting or buying a home or land. It's part of the BIG picture we have to succeed with excellence in every way we can, with every task we work on, large and small. The team we're assembling at
Saba Island Properties  also sees the opportunities that exist for anyone who wants to do the work, to be innovative and proactive.
Thank you everyone for all you do. For caring. For doing work that matters to you and others.
Great team work always makes a great company
♦   
  ♦ 

    ♦
Saba (+599) 416 . 2777 / USA +1 . 631 . 604 . 4435 / Skype: saba.island.properties
Email:  Albert@sabaislandproperties.com  or  Michael@sabaislandproperties.com