What Is the Culture of Saba? – Albert & Michael – Saba Island Properties
This is how things are done around here
Saba is a beautiful Caribbean island!
Like most places, it's a different country – different from where you live.
There are new regulations to understand and respect – knowledge – ideas – values – attitudes – manners – dress – language – religions – arts – rituals – customs – beliefs – practices – history – social behaviors.
It all adds up to culture, which can easily be defined as – This is how things are done around here.
– Think how nature does things.
– Think how a government does things.
– Think how a parent or boss, teacher, minister, lawyer, builder, housekeeper, baker, taxi driver, dive instructor, real estate agent does things.
It's culture – full of diversity.
People are culture
We each experience and share culture at home – at work – in social gathers – personal relationships – learning – restaurants – businesses – supermarkets – shops – services – products+++
Saba is a safe and friendly community that has a heart. Therefore, it should be cared for, which means having a desire to know it with empathy, not managing or trying to change things.
Being curious is an asset that works well here for the culture of Saba – noticing – observing – learning – discovering – asking questions.
Tourists visiting, or a person investing in property, relocating to work remotely should be open and welcoming of the lifestyle here.
As real estate brokers, our work is to help you know Saba and see if it's right for you.
Buying a home or land or opening a business is something to learn about on Saba.
There are processes and laws in place
Notaries appointed by the King of The Netherlands are authorized to perform legal formalities, especially to draw up or certify contracts, deeds, and other documents. They are lawyers who know the laws of the BES islands (Bonaire, St. Eustatia, Saba), and these laws can be different from the laws of The Netherlands.
As expats living and working here for 11 years, we have experience helping you move, answering questions about taxes, children, and schooling, opening a bank account, and becoming a Saba resident, which is different from becoming a Dutch citizen.
All the assets of life on Saba are enticing, especially in a world where Covid is managing our lives (for a long time). So many people are tired of Covid and looking to live a better quality of life. A small Caribbean island society, away from cities and crowds, living in the heart of stunning nature sounds magical and irresistible.
Please – enjoy learning about Saba – doing your research – visiting often – asking lots of questions – finding out the truth and facts about the culture on a 5 square mile island and that means –  how things are done around here.
It can be a fantastic experience and honor living on Saba… be it for a week or a lifetime.
♦  ♦  ♦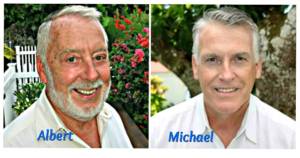 Saba (+599) 416 – 2777
Emails:  Albert@sabaislandproperties.com  or  Michael@sabaislandproperties.com
Here's Why People Connect With Us 
♦  ♦
Michael's writing is published at Arianna Huffington's – Thrive Global, The Huffington Post,
Medium, Maria Shriver's Website, LinkedIn, Michael Port, The Fordyce Letter, Mélange Magazine and others.
Along with this international monthly Blog Michael publishes daily on his coaching website – Commit2Change.
(photo – CNN)