Shearwater Sold! – Albert & Michael ~ SABA Island Properties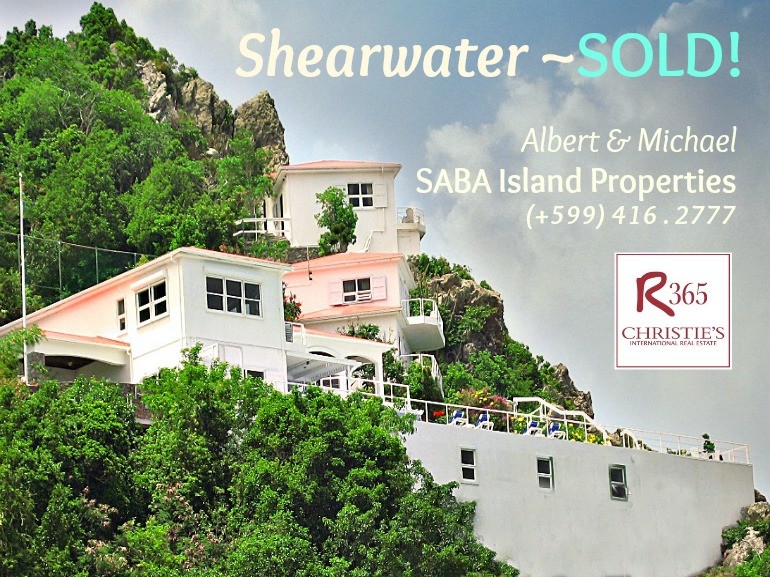 Shearwater is SOLD! The Largest Property Sale on Saba
Shearwater Hotel was the first property we represented when we opened SABA Island Properties
We remember when the owners of Shearwater knocked at our front gate on Booby Hill and asked us to help them sell their property.
They met with many people on Saba and were told to work with Albert & Michael. 
Here was an incredible opportunity. You'd be a fool not to say yes. We signed an agreement, published a website, and went to work selling Shearwater. We've been galvanized ever since. What a way to start a business!
6 Good Reasons We're Successful in Real Estate
1. We have 40 years experience in sales and design, including real estate — buying and selling homes and land for clients and ourselves —
in the USA, Europe and the Caribbean.
2. We've lived on Saba 5 years and… from the beginning people have been coming to us asking questions about:
Leases
Contracts
Rentals
Pricing for selling or buying homes and land
Interior design projects
Building
Managing properties… 

It's the trust people show

that's so gratifying and proof our company is valued.
3. Is it possible to run a real estate business on a small Caribbean island when there were already 2 other companies trying to do it?
We wrote to the island officials asking this and in two weeks got an answer. Yes. Go right ahead and open.
4. We were approached by someone on Saba to be part of a real estate 'team'…design etc. but — when the people involved insulted us, our home and experience we decided to open our own business. Thank you for putting us in business!
5. If you want to build a house and it's on land where plenty of rain water pours through it…
or — it will cost you thousands of dollars just to build a driveway…
or — you can't get to the land because there's no access…
or — 20 people own the property and not everyone agrees to sell — we'll tell you the truth first.
Recently we tried to talk a client out of a sale because of the amount of work and money it would cost to put the property in shape and they still bought it. Thanking us for our honesty.
6. The properties we represent at SABA Island Properties are client approved. We have signed contracts and all the necessary paper work.
Honest work pays off
We work hard and with lots of love, creativity and support from people. We screen clients carefully, promote our properties, build a following, make referrals and out of it we found a serious buyer for the extraordinary property — Shearwater — who loves it and will care for it.

People are congratulating us and one client said — "If you can sell Shearwater you can sell anything!"
It's a wonderful hope and an inspiring motto to live by.
The sale of Shearwater is good for Saba. It shows growth and new opportunities.
We're proving ourselves — earning an international reputation as 'the go to real estate company on Saba'.
We're the exclusive agents here on Saba for R365 / Christie's International Real Estate
We shoot for quality — honesty — for ways to stand out to the right customers by seeing what really matters to them
without aggressive, persuasive sale tactics.
We want everyone who works with us to be happy they do and to respect the infinite beauty and splendor and peace of Saba… whether they're creating a Caribbean lifestyle for a week or a lifetime.
Stand by. There's more to come!
♦
Albert & Michael – Saba Island Properties
*The Only Expat Real Estate Company on Saba*
We're living the life we tell you about and show you in land and homes
Saba (+599) 416 . 2777 / USA +1 . 631 . 604 . 4435 / Skype: saba.island.properties
Emails:  Albert@sabaislandproperties.com  or Michael@sabaislandproperties.com