SABA Island Properties – Now Exclusive Agents for Christie's Real Estate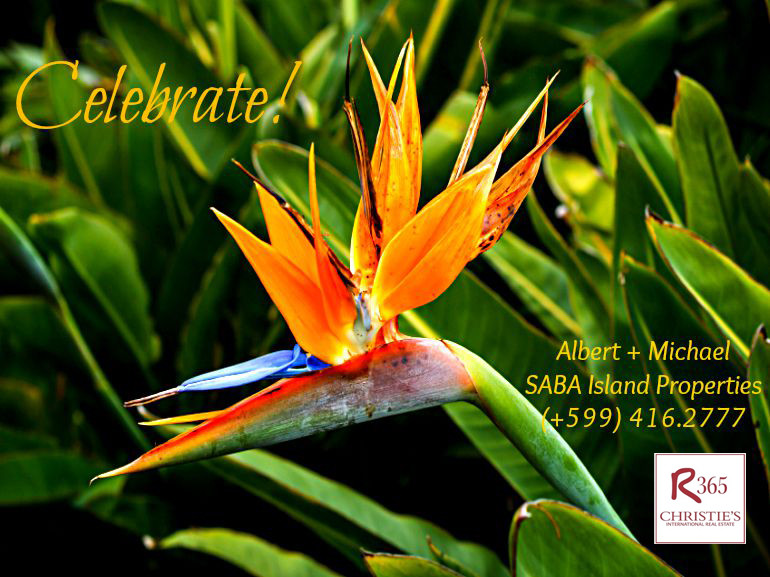 Albert & Michael are ecstatic to announce their partnership with —
R365 / Christie's International Real Estate — in collaboration with the esteemed art auction house Christie's
SABA Island Properties
was selected

 *

by invitation only *

to be their exclusive brokers on Saba

♦   ♦   ♦
 Albert & Michael will be working with R365 / Christie's International Real Estate in these locations:
The Caribbean
Europe
The Netherlands
The United States
R365 / Christie's — A Front-Runner in Real Estate World-Wide
Christie's brand is a trusted service — immediately recognized for the past 250 years as the world's premier auction house.
Now, as a Real Estate Affiliate with R365 / Christie's International Real Estate we're able to promote properties and land for sale in a new and larger way through an extensive network of connections, real estate agents, publications and meetings world wide:
Listings on Christie's international real estate website in 6 languages

Participation in their world-class digital showcase for properties world-wide

Promotions in The Wall Street Journal, Country Life, Prop Go Luxury etc.

Representation at exhibitions in Europe such as – KLM Open Golf Tournament, Beverly Hills Conference, London Russian Art Auction

Referrals from their vast connections of the world's top brokers

Advertising in their own brochure (100,000 magazines) and… the upcoming Caribbean edition
Christie's Expresses Our Joint Collaboration This way

:

"Christie's International Real Estate built its reputation on the rigorous selection of local brokerages. Our Affiliates are selected for their success in property sales and their ability to meet strict standards of excellence. When awarded Affiliate status, they gain access to our global marketing programs, worldwide network of more than 138 Affiliates and 32,000 agents across more than 46 countries, and the expertise of the Christie's International Real Estate regional management teams…Christie's International Real Estate brings exceptional service and knowledge to discerning buyers and sellers…under a brand that stands for trust, discretion and excellence."
The World is Looking at Saba
Albert & Michael of SABA Island Properties say this:
Our aim is to be world-class with every person and property we work with…even on a small Caribbean island.
We always want to do meaningful work and constantly ask if the work we do and the services we offer are worthy of the customer right now and also in the long run. We hope to match our customers expectations and what they are looking to experience when buying or selling a home or land. People deserve a superb level of commitment and care from us.
Christie's acknowledges that we're authentic and uniquely qualified at what we do. They honor our presence in the international real estate market; valuing our high standards and the expertise we offer all our clients as well as all potential sellers and buyers here in the Caribbean and around the world.
Property Management
Consulting
We've been steadily reaching out to countless sources — leaping in — taking risks — asking for what we want since opening
SABA Island Properties and this prominent invitation from R365 / Christie's International Real Estate — the recognition of our name and success in the real estate industry — is a tribute to the unlimited strategy, time, and love we pour into our business.
The work is paying off and… it feels GREAT to be identified by people at the top of the profession. What a boost this is as we continue to grow and tell people about Saba and what it has to offer.
Most importantly — we thank many, many people here on Saba; friends and clients from all over, for your trust and belief in our work.
You really listen to us

You back us

You see what we hope for and dream about

You take action and let us know we matter
You've been utterly generous:
Listing your homes and land with us

Offering and asking for advice

Being creative with advertising and personal promotions 

Helping to execute our plans

Sending lots of referrals our way
You're exceptional! You've put us on the map — helped to build and distinguish SABA Island Properties. Thank you. You have our deep and lasting gratitude for choosing to work with us in so many special ways. We never could have done this without you.
Thank you – R365 / Christie's International Real Estate – for seeing our potential and asking us to partner with you. We absolutely say YES.
Saba (+599) . 416 . 2777 / USA +1 . 631 . 604 . 4435 / Skype: saba.island.properties
Emails:  Albert@sabaislandproperties.com  or  Michael@sabaislandproperties.com