SABA Island Properties – Do People Trust Your Brand? – Albert & Michael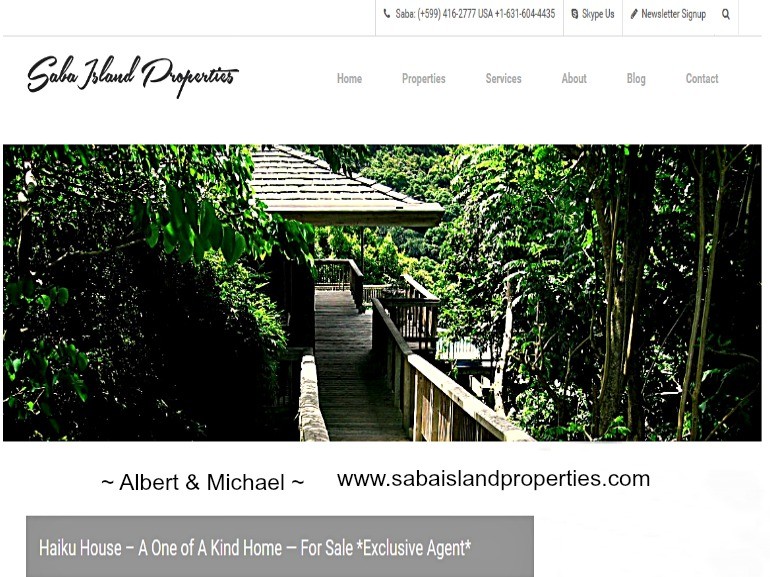 'Great companies that build an enduring brand have an emotional relationship with customers that has no barrier. And that emotional relationship is one of the most important characteristics, which is trust.'
— Howard Schultz – Chairman & CEO of Starbucks

♦
Brand is a specific service or product that people connect to
You want your brand to stand out. To be something people can't stop talking about. Can't live without! You want it to be loved, to grow, to last, be it coffee, sunglasses, chocolate, jewelry, a restaurant, clothing, a hotel, perfume, a machine, specialty shop or in our case —
a Caribbean real estate company run by expats —  SABA Island Properties.
People relate to us because of the way we treat them. They identify with our service, logo, mission statement, website, advertising, testimonials and plain old word-of-mouth. It goes far beyond a house or parcel of land. We give people something to talk about and… something to believe in.
♦   ♦
Take a look at this testimonial and what it says about trusting a brand
"We have registered a cottage that we're agents of with Michael and Albert of – SABA Island Properties. It wasn't easy deciding to list the cottage, as it's owned by a close friend, who recently lost her partner and is too heartbroken to rekindle any memories on island. After much discussion with her it was determined that we had to list the cottage.
When deciding upon an agent we looked at their current listings, (SABA Island Properties has a great selection; from commercial properties to beautiful high end villas, and quaint Saban cottages) and how quickly they responded to our email, (SABA Island Properties replied within hours). They matched our criteria and we've only been impressed since.
Besides their professionalism, they made us excited to list the property, they saw the great potential this listing had, and it didn't stop there.
Albert helped us select some new furniture, bedding and helped us rearrange the cottage to show its attractiveness while keeping it cozy with its Saban charm.
Michael & Albert provide us with ample time before showing the cottage and even provide us with a quick follow up afterwards. Not only are they professional, they are witty, thoughtful, and considerate. Moreover, they see the beauty and charm that Saba has to offer. To our minds, this is a must for sellers and buyers on our beautiful island. If you're considering listing your property with – SABA Island Properties – don't hesitate and get that contract signed today."
♦  

♦ 

  ♦
You don't build a brand by imitating
1. Our services and products are original. We're not imitating anyone.
2. We have a specific vision we follow — understanding your needs and wants; building an 'emotional relationship'.
3. Everything is for the customer. We think deeply about what you hope for when buying land, a home or even renting.
4. We know the real estate market and the properties we represent.
5. We offer a variety of products and services to get you what you want:
Homes and Land For Sale
Rental Properties
Renovations
Interior Design
New Construction
Landscaping
Consulting
Property Management
Every one of us is a brand
When you live and work in a community, people observe you. They take stock of your brand — how you talk, walk down the street, dress, where you live, how you take care of your property, how you work at your desk or out in the field.
They assess the kind of 'store' you run and the way you treat people.
It doesn't matter if you've lived in the same place all your life or if you're fairly new. Whether it's a small island or a vast nation. People add things up to see if they like you and trust you. And if they do… then they work with you.
Trust is all that matters
Trust only works when one human being connects with another human being. Machines don't care. Businesses don't care. Only people can care and caring is a choice. You choose to care or you choose not to care. You choose to hire and work with people who care or you don't. That's what creates the '… enduring… emotional relationship… which is trust.'
At SABA Island Properties we choose to work with people who care — surrounding ourselves with the heart of caring. From the client right straight through to the housekeeper or the person delivering water to your home. The result is our brand and it's core — our deliberate and heartfelt passion for humanity.
Trust is the connection. The belief and assurance between people that you and your business are reliable and honest. That's the big, healthy brand we're creating. 
♦  ♦  ♦
Albert & Michael

~ SABA Island Properties
Saba (+599) . 416 . 2777 / USA +1 . 631 . 604 . 4435 / Skype: saba.island.properties
Email: 
Albert@sabaislandproperties.com  or  Michael@sabaislandproperties.com