Saba is a Scarcity and That Means Valuable – Albert & Michael – Saba Island Properties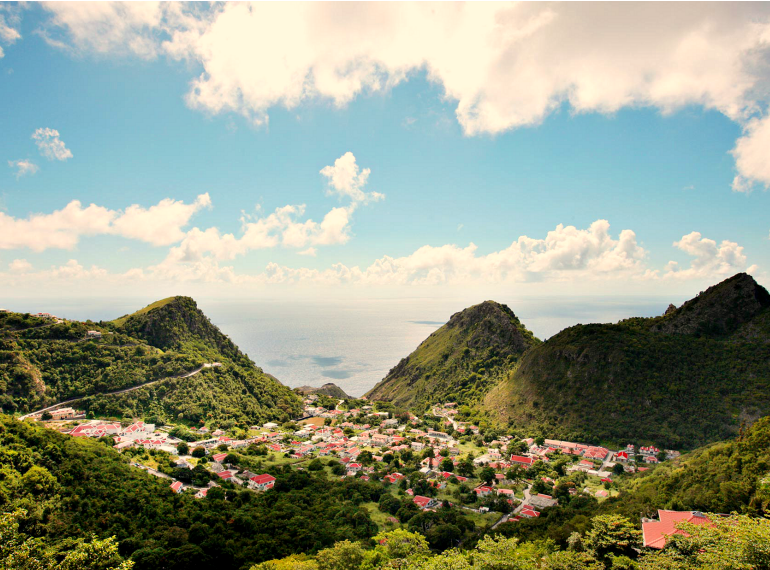 If you turn 'scarcity' around you go from lacking… to rarity
Something truly unusual – exceptional – uncommon – incomparable – singular in excellence.
That pretty much describes Saba.
There are several Caribbean islands to choose from (they're not scarce) when you want to escape to sun, beaches and some quick relaxation. But the really adventurous, discerning people like us want something more exclusive than the standard Caribbean experience where it's often become a factory of crowds with endless lines of activities, fast food restaurants, streets of designer discount shops and hotels lining the beach.
Saba is a valued commodity. It's assets are scarcities that many people deeply desire and will pay to have: safety – friendliness – convenience – beauty – affordabilty – a superb quality of life. Saba is simply unique. Definitely unspoiled. You must see it and live it for yourself to decide.
It might be the perfect lifestyle for you.
Saba's scarcity is not a bad thing
Stunning beauty
Gorgeous climate 

Caring people who

respect different cultures, beliefs and life choices

Safe and trustful 
Generous hospitality
Uncrowded
Acclaimed diving and hiking
Historical, nostalgic and visually charming
Top restaurants and hotels
Affordable
Easy to get to
Manageable taxes 
Good health benefits

Privacy

and comfort

A

place you can belong to and call

home

for you and your family
Healthy living — wellness of mind, body and spirit, living in the

heart of nature

 
A perfect place to retire — open and free with no gated communities or bars on your windows
Connections with your

tribes

— groups of local people and expats
Available opportunities for residency, new businesses and investors
Even while Saba is small (5 square miles, with one incredible road and about 2,000 people) it's abundant! There's nothing else like Saba in the Caribbean. 
People have accidently stumbled upon Saba and love what they've found.
Sufficiency — seeing that there's more than enough on Saba to live a prosperous life.
Saba's fairly unknown and people like it that way. It's fresh, real and untrampled (my word).
People keep returning to and investing in Saba because it makes perfect sense to be part of this wonderful island.
What do you expect from the Caribbean?
Average or… Stunning
Artificial or… Real
Mediocre or… Remarkable
Generic or… One of a Kind
Pretty good or… Spectacular
Limited or… Generous
Not worth talking about or… A Show Stopper
Saba surprised us from the moment we saw it. We were astonished by its incomparable beauty, warmth, feelings of peace and easy living –
not over built – not crammed with traffic or noise or masses of people. We couldn't believe what we had found.
We purchased property so we could live here right away and even while we had everything we ever wanted (living and working in New York City for 40+ years) we didn't give up a thing moving here. We lack nothing. That's a tribute to the island of Saba.
Saba is a gift of genuine simplicity and that is something extremely rare in the world today and should be treasured. The simple luxury and elegance we found in Saba was a game changer for us… as we moved away from the fast paced, unrelenting pressure and competition of a metropolitan city. Resetting our core values and coming home to our essential selves. You don't need much to live well. Just the basic human needs and Saba has that abundance of possibilities covered. We call it… living in dynamic tranquility.
Saba is a valuable scarcity to have in your life 
It's our passionate hope and belief that knowing Saba will enhance and change your life. Enabling you to make the powerful and important decisions for how you want to live. To make your life more manageable and enjoyable. To bring out the best in yourself; your potential. To play big. To really get what you want and dream about.
Saba is a valuable scarcity that offers effortless gratitude – wonder – generosity – beauty – and organic happiness in your life daily.
Please do it — Come and see if Saba is right for you.
♦   ♦
Saba (+599) 416 .2777 / USA +1 . 631 . 604 . 4435 / Skype: saba.island.properties
Emails:  Albert@sabaislandproperties.com  or  Michael@sabaislandproperties.com