Troy Hill Villa – For Sale – Albert & Michael – Saba Island Properties
$550,000
Lot Area: 659 square meters Bedrooms: 2 Bathrooms: 2 1/2
Troy Hill Villa ~ A Hillside Dream Home



♦ 

For Sale 

 ♦
House ~ 1,200 square feet 
Land ~ 659 square meters
Completed in 2013 ~ Sold Fully Furnished
(Troy Hill is located just above The Bottom – the Capital of Saba)
♦
Price Reduced to $550,000.00 USD
---
---
Two (2) Spacious Bedrooms + closets (air-conditioning in the master bedroom)
Two and a half (2 ½) Baths
Cathedral Ceilings in natural wood
Tiled floors
Open Kitchen / Dining Room / Living Room
(Cherry wood cabinets, granite tops, 4 burner stove, refrigerator, dishwasher, microwave, toaster oven, coffee maker)
Washer + Dryer
Internet, TV
Outdoor Gas Grill
Veranda with 180 degree vistas of the hills of Saba and the brilliant blue Caribbean Ocean
(Four (4) – 8 foot sliding doors + metal accordion hurricane shutters + traditional Saba style wooden window shutters)
Large Cistern (25,000 gallons of rain water)
Off Street Parking Driveway (fits two (2) cars)

House is concrete block and wood (center bathroom construction is concrete and outside is wood)
It's a healthy 10 minute walk down to The Bottom and back for groceries, restaurants, socializing
AND — Troy Hill Villa has a solid, long term rental history for your possible 'added income'…
(invest now, rent to cover your bills and live here later. Many of our clients do this.)
♦  ♦ 
♦ We're so grateful the owners of Troy Hill Villa reached out to us to help sell their home.
They've been totally giving and patient in answering all our questions. 
It's people and positive opportunities like this that make our work deeply rewarding and happy.
♦ Read their own words and heartfelt emotions to see the value and status of this impressive home:
"What we love most about Troy Hill Villa? It's quiet… peaceful… no close neighbors… very, very private… the building structure and location.
Our most favorite time is early morning and the sunset. The veranda… that's my greatest joy!
I was born on Saba and left when I was 15 years of age to further my studies on St. Maarten, but one of my dreams were to someday return and build a cottage somewhere in the hillside and enjoy life! We got the opportunity to purchase the property many years ago and sat on it for a long time thinking on how I would be able to develop by starting to build a road to get into the property and build that dream cottage.
The intention was to build one, enjoy it for awhile and then sell so we can build two more — one for ourselves and the other to sell.
Many, many years ago this area was inhabited. The property below us belonged to my parents which they bought before I was born and
I remember a little house on it, but that is gone and only the remains of the cistern is there.
I would like the future owners to enjoy and cherish the house and the building structure as well as the time spent on the planning.
The house was built with a lot of personal touches… In our opinion, it turned out to be one of the most beautiful Villas on the island!"
♦
Come on! This is for you!
Don't you see yourself living here? Like the song says — "Sitting on Top of the World".
High up on the lush, green hills and trails and gorgeous climate of Saba…
in this beautiful – ready to live in home – on your own Caribbean island.
It's your exclusive retreat into Nature – Peace – Privacy – Bliss – Paradise

Call or email us right away and invest in your future.
Become a Saba insider. Be part of 'the Saba tribe'. Not an outsider.
The dream and lifestyle are real. It can be yours so easily. Be impulsive. Leap at Troy Hill Villa!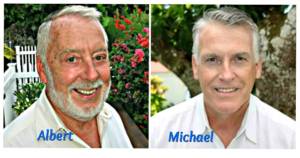 Expats in Real Estate

 Sharing the Variety and Wonder of Saba Homes & Land & Rentals
Saba (+599) 416 . 2777 
Emails: 

Albert@sabaislandproperties.com  or  Michael@sabaislandproperties.com
[See why other people are happy to work with us]