The Piano House – SOLD! – Albert & Michael – Saba Island Properties
Bedrooms: 3 Bathrooms: 3 Year Built: 1991
 Leading Upper Hell's Gate Home
♦
~ The Piano House

~




♦


Well k

nown for its warmth — comfort — design — location — outstanding views
---
The Piano House

(built in 1991)

stands on 1,280 square meters of land  (1/3 acre)
with gorgeous pool, terraced gardens and 2,000 square feet of top floor living space
What Luxury!
♦ The open upper floor Great Room — measures 32 feet by 28 feet with 18 foot cathedral ceilings and a kitchen designed to fully interact and flow so well between the inside and outdoor living spaces.
♦ The Master Bedroom has two (2) walk-in closets and four (4) windows with a full length balcony facing the Caribbean Sea and looking over Spring Bay which will never be developed. Your views and privacy are undisturbed.
♦ Two (2) additional bedrooms and two (2) renovated baths are also on this same upper level.
♦ A large, covered outside seating deck is right off the kitchen, overlooking the private, in ground pool where you'll spend most of your time living, entertaining and just marveling at the vast Caribbean views, morning, noon and night. 
♦ Island views of St. Maarten, St. Barths, Statia, Nevis, St. Kitts and Montserrat.
♦ The house is a short distance from Windwardside Village.
♦  ♦
♦ The lower level is reached by a convenient wide, internal staircase or pool deck entrance/exit. Approximately 800 square feet of tiled space with bathroom, living room and two (2) bedrooms. (All of the plumbing is installed but a kitchen will need to be added and then you're ready to offer a separate rental income producing apartment, if you wish.)
♦
♦ The property cistern holds 23,760 gallons of water.
♦ The ground floor is concrete block construction.
♦ The main frame of the home is a 'southern yellow wood' post and beam construction.
♦ Private driveway holds parking for two (2) cars with easy turn around space.
♦  Sold partially furnished.
♦  ♦
"The Piano House is a real home. You feel it from the moment you walk down the drive and see the open front door welcoming you in. We were excited to visit for the first time and experienced a remarkable and unforgetable atmosphere! Expansive and intimate at once with so many personal and thoughtful touches that connect you with the outside wonder of Saba — carefully selected colors, furnishings, paintings, garden plantings — they're all an intricate part of the warmth and deep love that the owners have created at their home.
Naturally we were curious how the house got its name and the owner told us that she once played piano competitions and wherever she lived she always brought her beloved 'parlor grand piano'. Thus the name — The Piano House.
Piano House was built by a Saban and they absolutely know how to build a home that will last and thrive in the Caribbean…. designed to put you in the heart of Saba's beauty; capturing astonishing views of land, sea and sky. And yes… amazing sunrises with your morning coffee or tea.
We feel so fortunate that The Piano House exists. Image what you'll feel when you live here!
We're truly honored and grateful to represent this beautiful home to the world." – Albert & Michael
♦   ♦   ♦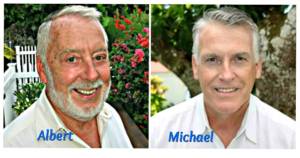 Saba (+599) 416 . 2777 
Email:  Albert@sabaislandproperties.com  or  Michael@sabaislandproperties.com
See what other people think of our work