*Sunrise Ridge* – Land For Sale – Exclusive Agents – Albert & Michael – Saba Island Properties
$336,000
Lot Area: 5,169 Sq. M
*SUNRISE RIDGE*  is exactly that!
Located in the district of Flat Point on Saba, here in the Dutch Caribbean, Sunrise Ridge is a special place because every day you're treated to an incredible sunrise reflecting across the Caribbean. There is intense life in a sunrise – warmth, healing, growth, inspiration.
Sunrise Ridge is the cheapest asking price of property For Sale today on Saba
*5,169  square meters – 1.28 acres*
($65 per square meter)
for the reduced price of  — $415,000.00 — $336,000.00 USD
The land is high up on a buildable slope overlooking Cove Bay and the Hills of Saba and offers vistas of 5 Caribbean islands —
Anguilla, St. Martin, St. Barth's, Statia, St. Kitts.
One of the owners wrote this to us about why he chose this land — "Where else can you see an incredible sunrise, enjoy the 'hustle and bustle' of the airport far below, watch whales, enjoy children playing in the water, the view of Cove Bay… and see the most incredible 'light show' the heavens feature every evening."
Go right ahead and image living here! What vitality and peace. You'll remove yourself from the noise and pressures of every day life. Open your doors and windows… sit in the clean wind and sun with blue sea and sky all around. You'll soak in it; calmly absorbing all the elements of nature.
The building possibilities on 1  1/3 acres are infinite – build your estate residence or your family compound
'Flat Point is one of our favorite places on Saba. Several of our friends live here and when we go there to visit we're always struck by the natural, raw beauty of land and sea – the waves crashing against the edges of the bay with white foam and blue green water.

Saba is not your average place. It's a sacred place where things have not been spoiled, or interrupted. You're free of the hub-bub of casinos, heavy traffic and crowded tourist trade. There's regard and a certain kind of reverence here on the island with the world renowned attractions of diving, hiking, trails… plus good restaurants, hotels, rental properties and friendly people. You'll be living a quality Caribbean life style.' – Albert & Michael
At $65.00 a square meter, Sunrise Ridge is priced below the current market price so…
make an offer and buy this beautiful property for you and family.
Come and be transformed by Saba!
Live daily in the splendor and awe of Saba on *Sunrise Ridge*
◊   ♦   ◊
Please call Albert & Michael ~ SABA Island Properties ~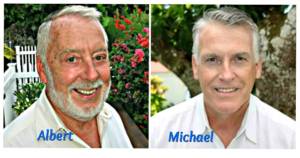 ♦  ♦
(See what our happy customers have to say about our work)
Saba (+599) . 416 . 2777
Emails:  Albert@sabaislandproperties.com  or  Michael@sabaislandproperties.com