Spyglass – Prestigious Villa Rental – Albert & Michael – Saba Island Properties
Bedrooms: 3 Bathrooms: 3
Spyglass Villa is exalted by sun and sea ~
When driving up from The Bottom, just past St. John's, you'll see in the distance stationed high atop one of the islands most notable peaks,
an impressive white house. You're struck by its stately image and continue to follow it as you head towards Windwardside, your imagination buzzing with questions — Who lives there? What does it look like up close? How do you get there?
This is *Spyglass* — One of the prestigious Villa Rentals of Saba —
right on the edge of Booby Hill Point. 
'If I had seen it first, I would have bought it.' — Guaranteed. That's what you'll say when you see the location and home.
1,500 square foot Villa — Sleeps four (4)
Totally renovated with all the modern conveniences
Three (3) bedrooms — two (2) queen sized beds + one (1) twin/single
Three (3) full-sized baths — toilets + shower in each. One bedroom has it's own en-suite bathroom. The generous family bathroom is located in close proximity to bedroom 2. Bedroom 3 is a cozy single room with  its own en-suite bathroom
Full new gourmet kitchen with breakfast bar opening into the dining and living room area and outside covered verandas — front and back
Laundromat
Maid service with linen / towel change is available one time per week. Additional housekeeping upon request
Small Outdoor BBG Grill
TV and Free WiFi Internet / DVD Player / Satellite / Cable (iPod Dock is available with line in/out leads)
Albert & Michael love this place!
'The owners did an incredible job on the villa. Their attention to details is subtle, artistic and right on. The relation of the outside to the inside living is unsurpassable and so important when you live in the Caribbean. The tiling and kitchen rock wall work, crafted by local artisans, is beautiful.
The villa is well set up! CHIC…by todays cutting edge standards of chic with natural materials such as teak that weathers beautifully with age.
It's simple elegance with vast openness and privacy.
You'll have a love affair here with the sunlight, the endless views of Caribbean sea with the islands of St. Eustatius, St. Kitts, Nevis, rugged hills green with growing plants, pink and red sunsets, moonlight and the bounty of twilight with a multitude of stars like you've never seen.'
The owners, born and raised in Barbados tell us —
'We were enamored from the time we landed on Saba…staying in a traditional cottage, our hikes, diving and the good restaurants. We were love-struck when we encountered the property. The site is special. We watched the sun rise and the sun set from the same spot. This is possible because the view is close to 360 degrees at a sheer elevation of 1500 feet…We started to dream about restoring the beautiful house, imagining outward traditional charm coupled with inward modern conveniences would do justice to the property.
Saba is just so quiet. The word that always comes to mind whenever I catch myself thinking about Saba is harmony. The way the cottages are in harmony with their environment, and with their occupants — it's remarkable even in the Caribbean. I invite you to stay at Spyglass and sit as we do at the breakfast bar on the veranda, enjoying a fresh croissant and coffee…admiring the curvature of the earth.'
Come and see the best views on the island from *Spyglass*
…savor your life right here where the living is easy…open…peaceful…good
Rental Terms for Spyglass Villa:
Low Season Rates:  $375.00 per night — 2 to 4 guests — May through October
High Season Rates: $395.00 per night — 2 to 4 guests — November through April
– Please add five percent (5%) island tax to the seasonal rates
– Guests provide their own meals – Pantry items can be requested prior to your arrival
– Events allowed


– Two (2) – 

Three (3) nights minimum stay


–

Non-smokers only
–

Pets Not Allowed


–

Fifty percent

(50%) deposit required to hold your booking ~ Thank You
Please Call Albert & Michael  —

Saba Island Properties
–
–
to book your stay at
Spyglass Villa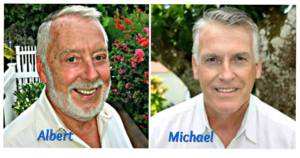 Saba (+599) . 416 . 2777
Email:  Albert@sabaislandproperties.com  or  Michael@sabaislandproperties.com
♦  ♦