Sea View Cottage – For Sale & Long Term Rental – Windwardside – Albert & Michael *Exclusive Agents* – Saba Island Properties
$475,000
Bedrooms: 2 Bathrooms: 1
This Renovated Home is What You've Been Asking Us For…
~

A Windwardside Saban Cottage

 ~
  2,023 Square Meters of Land
(1/2 Acre)
 Impressive Land – Privacy – Breathtaking Ocean and Mountain Views 
♦

$475,000.00 USD

♦



---
---
♦  ♦  ♦
Two (2) Bedrooms – Both with Air-Conditioning
One (1) Bath with Shower
Kitchen
Dinning Area
Living Room
TV
Washer + Dryer
Gazebo with Spacious Yard
Three (3) Fresh Water Cisterns = 8,000 gallons
New Windows
New Shutters
New Stone Driveway
New Fenced Entrance Walkway
Freshly Painted Inside and Out
Room to Expand and Build a Plunge Pool
Sold Furnished
♦
The owner enthusiastically explained to us why this Saba style house and location is so perfect:
"Sea View Cottage is beautiful! It has withstood the test of time. Built over 100 years ago (maybe 1897).
I believe Ambrose Johnson, the builder, was overwhelmed by the views of the sea, hence the fitting name.
Many fantastic people from Saba have lived here and enjoyed the house. Gardening… growing vegetables…
having social gatherings in the gazebo with local food and Saba folks chatting… enjoying the breathtaking views.
The friendliness and hospitality of the people is very special — down to earth people.
Living high-up, surrounded by beautiful nature and the prevalent feel of peacefulness
are the big attractions of Sea View Cottage.
Humble and comfortable are two words that describe best why I love this place and… 
when the cloud cover is passing through the valley, you're above and walking on clouds.
I want this special home and property to be enjoyed by new owners — for them to be as happy here as I have been."
♦  ♦
Sounds Amazing, Right?

So — Why Not Go For It!

Newly Refurbished…
Away from the Noise of Town…
A 5 Minute Walk Into Windwardside for Shopping and Restaurants…
And… the Luxury of Peace and Gorgeous Saban Scenery
♦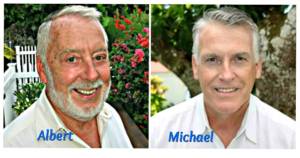 Saba (+599) 416 . 2777 
Emails:  Albert@sabaislandproperties.com  or  Michael@sabaislandproperties.com
– Why People Decide to Work With Us –