Mountain Road – Superb Land – SOLD! – Albert & Michael *Exclusive Agents* – Saba Island Properties
Lot Area: 1525 Sq. M
SOLD!
Mountain Road — Retire and Live in the Peace, Freshness and the Vitality of Saba
This 1,525 square meter lot — nearly at the top of 

Mountain Road

—
is a superb size and location! 

 

Mountain Road 

is developing and
you have the opportunity to walk in and choose the land you want to live on.
It's one of those 'out of this world' spots on Saba where you're high up overlooking
Windwardside Village – the hills — Caribbean ocean and — cloud filled sky.
"One thing people continuously tell us is how much they love Saba. They love the climate, the people, the safety, the quality of life. It's unique, sublime, clean, open, majestic, awesome, captivating, alluring, simply gorgeous and wonderfully surprising. The adjectives just keep flowing. We felt that immediately when we first visited Saba 7 years ago. We bought land, renovated two homes and opened our own real estate and design business — SABA Island Properties. It's a grand life we live!" — Albert & Michael
The owner told us a similar story —
"I fell in love with Saba and made many friends very quickly. I decided on my first visit that I'd like to live here. I chose the lot on Mountain Road for several reasons:
The location adjacent to the road makes access and infrastructure super easy.
The location adjacent to the footpath makes access to Windwardside on foot convenient and enjoyable.
The property's location just below the Maskerhorne path is one of the most pleasant, verdant, sylvan sections of any trail on Saba.
The land is terraced which mitigates some of the slope issues.
When it is appropriately cleared, the land has great views of Windwardside and beyond to the sea.
It's slightly more temperate at its elevation above Windwardside. The temperature is moderate and the moisture is more agreeable than the areas further downhill.
The land permits car / driveway access just off the road and level with its surface. This permits easy ingress but provides privacy.
The configuration also extends over to the footpath permitting home placement that is both off the road and off the path – providing privacy and easy access to both. The path is a nice amenity that takes you directly into Windwardside down a perfectly navigable lovely sylvan path that goes up to Maskerhorne. I believe these paths to be among the most pleasant on the island."
 Call us to learn more about this lovely and exalted piece of land —
something ideal and beautiful to build your future on.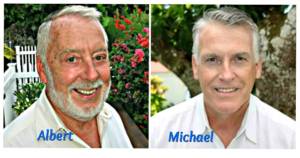 Saba (+599) . 416 . 2777
Emails:  Albert@sabaislandproperties.com  or  Michael@sabaislandproperties.com