Lower Hell's Gate Land – For Sale – Albert & Michael *Exclusive Agents* Saba Island Properties
$250,000
Lot Area: 2139 sq. meters
A Constant View of the Horizon 
* 2,139 square meters of unspoiled Saba Land. One of the best properties we feature in Lower Hell's Gate
* The 1/2 acre of land creates a gentle slope, well cleared with wide open views of the hills and sea
* Easy to build on with road and utility access
You're not living on top of other people. You're at just the right altitude where you'll live in comfort, caressed by the soft, fresh, pure ocean breezes and… the constant view of the horizon; the junction of blue Caribbean sea and sky. It's not hard on the eyes at all.
The property owner movingly told us this story of his land:
"I've always felt a special connection with the land as it belonged to my father, grandfather and his father before him. I remember going there with him and especially with my father when I was a young boy. My father planted many trees in the past — avocado – grapefruit – mango – knip and of course coconut trees… We used to 'work' on the land during our holidays for many hours making small foot paths through the low bushes using traditional tools like a machete and hoe. We felt like real Saba Farmers!
We believe the land has one of the best views on the island. The sunrise, with the other islands on the horizon is amazing — Anguilla – St. Maarten – St. Bart – Statia – St. Kitts – Nevis !" 
♦      ♦      ♦
~ $250, 000.00 USD ~ And you're ready for your Saba Villa!
Albert & Michael – SABA Island Properties – Are your exclusive Agents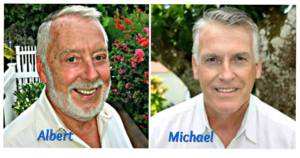 Saba (+599) 416 . 2777 
Emails:  Albert@sabaislandproperties.com  or  Michael@sabaislandproperties.com