Leaf Resort – Troy Hill – A Green Future – Albert & Michael – Saba Island Properties
A Greener Future >>>>

Ecological Sustainable Resort – Saba
13,500 square meters (3 1/3 acres) of virgin land is available in the most choice part of Troy Hill,
on the island of Saba in the Dutch Caribbean
The vision is an innovative, exciting and practical plan for the special investor
interested in building a '5 Star Resort'
based on the principles of joining vernacular architecture with modern design —
developing a totally green resort ~ Leaf Resort ~
♦  ♦
The purpose of the resort must be based around the pleasures of inhabiting this extraordinary site
rather than assembling a stereo-typical image of a classical resort hotel.
The mission: to assist the island to further enhance the prime tourist industry
while maintaining and honoring the spectacular natural beauty of Saba.
This is part of the owners passionate hope and intentions – to promote life –
to care for… to help heal… and protect the world we live in.
♦
The owners of the property have conducted independent engineering surveys and cost estimates of the preparation work for roads, earth movement, retaining walls, energy conservation and much more.
They have developed conceptual plans encompassing the actuality of  'open space living' to the natural site and managing to do so in a totally ecological sustainable way. It's architecture at one with Saba's abundant green plant life and dramatic mountainous landscape.
♦  ♦
♦ Living spaces on open land terraces without crowding or blocking of the panoramic views
♦ Natural insulation from volcanic pumice rocks and stone of the island
♦ Conscious choices to promote inhabitable garden structures and living space
♦ Private Eco pools with cabanas overlooking the shining blue Caribbean sea
♦ Rainwater collection and recycling… and other positive, natural environmental approaches
♦  ♦  ♦
Saba was once called — The vegetable garden of the Caribbean –
because Sabans were highly successful farmers growing all their own produce
and that essential agriculture continues today.
If you are truly interested in a BEAUTIFUL location
– A Monument of Nature –
Set on building your own 

~

 Leaf Resort ~


(based on the vital marriage of architecture and its surroundings
the ecological building systems) — please call us.
We will gladly give you all the particulars!
♦  ♦
Thank you –

 

Albert & Michael

— SABA Island Properties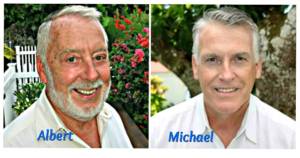 Saba (+599) . 416 . 2777
Emails:  Albert@sabaislandproperties.com  or  Michael@sabaislandproperties.com
 Rent the Elegant and Private Haiku House 




♦


Live in Comfort and the Heart of Stunning Nature
Experience the Freedom and Safety of Saba
and this Villa Resort Opportunity!