Haiku House – For Sale + For Rent – Albert & Michael – Saba Island Properties –
$1,950,000
Lot Area: 3500 Bedrooms: 3 Bathrooms: 3
♦ An Exquisite Villa Offering on the International Real Estate Market ♦
♦ One of a Kind Home ♦ 
Please Click Here to See Google Earth Photos of Haiku House
♦   ♦   ♦
Based on the principles of Haiku (a form of Japanese poetry,
expressing peace, tranquility and harmony, often reflecting on the relationship between nature and man)
Haiku House is an exclusive, modern property for sale on Saba.
A post and beam architectural redwood design of a Japanese 16th century villa plan
reflecting the simple elegance of a Shinto shrine.
Haiku House is softly bleached into a grey silvery finish by the trade winds and warm Caribbean sun.
It's natural look is one with the landscape of Saba… warmly embraced by the great green hills,
the brilliant sunshine and leagues of Wedgwood blue sea.
You travel up and up, turning along the road and finally coming to rest at a most magical home,
nestled into an abundance of native plantings, waiting for you to discover its beauty and comfort.
Haiku House gently reveals itself to you through the trees. Almost hiding on purpose — creating mystery and
excitement as you walk along the raised wooden pathway.
Instantly you feel at home at Haiku.
Arriving at its generous entrance foyer of wood, glass and white modern furnishings,
with an enticing infinity pool opening out to captivating views of the town below,
twin mountain peaks and the blue Caribbean Ocean stretching out wide in between.
You're enveloped – enfolded – encircled – captured – and you don't mind surrendering at all.
It's a powerful and warm welcome that Haiku House offers you.
A perfect dream come true. This is how life is meant to be lived!
♦  ♦
– One (1) acre (approx.)
– Constructed in hardwood and red cedar
– Fully furnished
– 3,500 glorious square feet of open living space with all of the latest amenities in bathrooms and kitchen refinements
– Comfortably accommodates six (6) people
– Spacious Living / Dining / Kitchen plan with gorgeous views of the Caribbean ocean and mountains
– SieMatic modern kitchen
– Master bedroom / air conditioned / private bath
– Two (2) guest bedrooms / air conditioned / two (2) private baths
– Private pool
♦  ♦
— Here's how the owners describe the birth of Haiku House —
"We had seen a lot of Caribbean Islands to build our house on and when we visited Saba
we had reached our goal. This was our place. We were sure 100%.

We wanted to build a luxury wooden house that was earthquake and hurricane proof. The wood
had to come from special woods to prevent more deforesting in the world and so it came out of Oregon (USA).
For us it's all about the living… the pool deck and the belvedere terrace is our favorite place to be.
You can look over the small village below, The Bottom (the capital of Saba)
for hours and hours and the ocean beyond."

♦
"We (Albert & Michael) were utterly spoiled at Haiku while photographing the estate. It's a grand home.
Relaxed and strong. Completely Private. With nature all around and the tranquility of Haiku House.
There's the gorgeous light, clean air, rich plant life, the blue water and sky with huge white clouds
right in front of you. All the elements of earth are alive here. It's irresistible! 
There's a tremendous life force living here on Saba. What we call dynamic tranquility.
It's why we moved here and created Saba Island Properties —
to tell other travelers about the exclusive beauty and… quality of life that is only Saba."

♦
— An Extraordinary Living Experience Is In the Hands of the People Who Purchase Haiku House —
♦  ♦
 $1,950,000.00 USD
~ Also Available for Luxury Rental ~
(Haiku House is located on Troy Hill.
One of the most desirable residential areas on Saba 
♦  ♦
Speak with
Albert & Michael
~ SABA Island Properties ~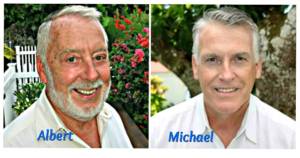 Saba (+599) . 416 . 2777 
Email:  Albert@sabaislandproperties.com  or  Michael@sabaislandproperties.com
[Why Not Buy and Share Haiku House with Other People?]
♦