Giles Quarter – Land For Sale – Albert & Michael – Saba Island Properties (+599) 416 . 2777
Potential is the word for –

 

Giles Quarter – Saba

 

–

Infinite Potential
 118.34 Acres of Pristine Land
♦
478,935 Square Meters
♦
800 Linear Meters of Ocean Front
♦
Located between the villages of Windwardside + St. Johns
Near the New – Black Rocks Harbor Marina + Fort Bay Harbor

*Travel + Leisure – "Saba – No. 1 island in the Caribbean."
♦ Price Upon Request ♦
1:33 minute video
Saba is a good investment
We're confident purchasing Giles Quarter (aka Cattle Plantation) will take you where you seek to go
better than any other land investment because of the product you're buying into –
The Unspoiled Queen of the Caribbean – Saba – Stunning – Safe – Uncrowded – Friendly+++
We invested in Saba 12 years ago (moving from New York City) because we fell in love with the island and the lifestyle. As business professionals we immediately saw possibilities. We bought land – bought and renovated 3 homes (creating additional sources of income), and opened our own real estate business.
The assets and benefits of Saba are enormous, and we're living happy, successful lives. 
People like us do things like this – invest in a good thing. Saba is a good investment.
Potential growth – potential payback 
You'll have power when you buy the land of Giles Quarter.
*Power as a Wise Investor.
*Power as a Creative Force.
*Power as a Market Leader Who Wants to Make A Difference.
Potential Growth – Potential Payback – are two possibilities when developing projects for
the generous land of Giles Quarter.
Giles Quarter has all the right ingredients for success, and for attracting the right people who also know Saba makes their lives better and profitable. Word of mouth is the greatest marketing tool in the world.
One person tells another about Saba – then 10 – 100 – 1,000 others are connected.
Maybe that's all you need for success.
Giles Quarter will allow you to unleash its possibilities, bringing out future potential as you see the surprising value of Saba and the reality and awe of living on a Caribbean island.

Be creative – Saba is ready
♦  ♦
♦ New Businesses – Shops – Restaurants – Bars – Night Clubs – Diving Companies – Boating and Fishing.
♦ Resorts – Boutique Luxury Hotels.
♦ Retreats – for artists, writers, photographers, dancers, and musicians, offering meditation, coaching, cooking, hiking, diving, and free time.
♦ Building Private Homes – Timeshares – Condos – Small Environmentally Friendly Cottages.
♦ Assisted Living Communities – for modern elders with educational and workshop experiences for career and life transition possibilities – a road map for wisdom seekers who intend to continue living their dreams and best lives.
♦ Agriculture – coffee and pineapple farming, avocados, mangos, papaya, bananas, lemons, limes,
♦ Relaxation – spending dedicated time with family and friends. When did you last spend quality free time with your family and friends?
National Geographic –

"Saba – No. 3 of the 10 Best Islands in the World."
Real possibilities
Please click on the names of some of the Saba homes we represent For Sale and Rent.
Real Possibilities to inspire your imagination for building, living, and working on Giles Quarter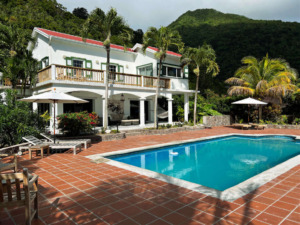 Who's it for? What's it for?
What you're buying into is a quality lifestyle that only Saba exudes, the superb way of living with freedom – peace – breathtaking beauty – and healing powers of Saba's nature.
People are searching for a safe haven in a world that often is confusing and frightening. They have dreams – a life they wish for – long for – and are willing to pay for – to live well in a unique and irresistible place to call home. Saba is it –
a welcome retreat.

To the intelligent investor this is important. The undeveloped land of Giles Quarter will enable you to make a financial killing.
The compact 5-square-mile island of Saba (a special municipality of The Netherlands) is the BIG attraction with a way of life unlike any other Caribbean island. Visitors call it – Comfortable Elegance – Classy Casual –

Simple Luxury

–

Exclusive

– Adventure Off the Beaten Path – A Private Club – Life Enhancing –
Life Changing.
♦  ♦
♦ Saba – clean – uncrowded – safe – affordable.
♦ Superb Climate – fresh tropical breezes, often cool at night and in the morning.
♦ Easy Travel – 12-minute flight from St. Maarten or 90-minute ferry, also helicopters, charter flights.
♦ World-Class Diving –

the Saba National Marine Park

circles the island and encompasses 26 dive sites.
♦ Hiking – 24 trails and Mt. Scenery, the highest point in The Netherlands.
♦ Spectacular Beauty – 3 ecosystems – rainforest, cloud forest, coral reef – and 7 vegetation zones.
♦ Friendly – about 2,000

residents

where the diverse and accepting

community

care about people.
♦ Excellent Food and Art.
♦ Wonderful Hotels and Hospitality.
♦ Annual International Triathlon.
♦
Scuba Diving Magazine – 

"Saba – 3rd Best Marine Environment."
♦
Become part of history and

heritage
The original owners of Giles Quarter (1700's) were the Mardenborough's.
Giles Mardenborough was married to Esther Peterson and both were still alive on Saba in the year 1882. 
The most well-known Mardenborough was Sarah Catherine. She died on December 19th, 1903 at her home in the Windward Side at the age of 79. Her parents were Christopher Mardenborough and Mary Hassell. Sarah is considered the founder of the church on Saba.
One of the current owners of Giles Quarter filled us in with many moving stories and facts of the property:
"This beautiful oasis was once a farm and thriving Cattle Plantation and ultimately owned by three parties. The men encompassed the strength and ambition of its people. Hard work was a lifestyle, but also
a necessity as this plantation once provided sustenance for the people of the island
with livestock and farming plots.
In 1883 sea Captain Henry Johnson Hassell wrote a letter to the acting Governor of Curacao requesting that he erect buildings at the Fort Bay beach to carry out his business of supplies
and livestock import and export. Permission was granted.
Today the walking paths, steps and treacherous cliffs of Giles Quarter – Cattle Plantation – are replaced by roads and the access to the water is a far reach from what it once was. The watering troughs and old stone cattle pens are still there, reminiscent of a time gone by, but the enchanting beauty and breathtaking views remain and continue to be a timeless treasure to this day."
♦
Another owner shared this with us:
"40+ years ago I was a young boy growing up on Saba and spent a lot of time with my grandfathers
who were an immense influence on me.
Back in those days most families worked any jobs they could and lived on a subsistences lifestyle of farming and harvesting crops and animals to eat. They were farmers, hunters, fishermen, construction workers, sailors doing everything they could to support their families.
We had weekend adventures and if the sea was nice we would wake up early and walk from Windwardside
down to Giles Quarter and spend the morning fishing the coastline.
The land has been in our families for generations and is very special to me. I owe it to my family, have a deep sense of obligation, to ensure that we use it to our benefit and for the benefit of Saba
with the land they looked after for so many years, decades, and centuries."
Don't take our word for it
Five People to Learn from about Land and Real Estate Investment:
American financier Russell Sage:
"Real estate is an imperishable asset, ever increasing in value.
It is the most solid security that human ingenuity has devised.
It is the basis for all security and about the only indestructible security."
Margaret Mitchell, novelist, journalist, Pulitzer Prize winner:
"The land is the only thing in the world worth working for, worth fighting for,
worth dying for, because it's the only thing that lasts."
American playwright, actor, and director Sam Shepard:
"Everyone wants a piece of land. It's the only sure investment;
it can never depreciate like a car or washing machine.
Land will double its value in ten years. In less than that. Land is going up every day. "
Andrew Carnegie – industrialist and philanthropist:
"90 percent of all millionaires become so through owning real estate.
More money has been made in real estate than in all industrial investments combined.
The wise young man or wage earner of today invests his money in real estate."
Franklin D. Roosevelt – FDR – 32nd President of the United States:
"Real estate… purchased with common sense, paid for in full, and managed with reasonable care,
it is about the safest investment in the world."
♦  ♦  ♦
Time to Take Action.
Trust Saba. Trust Yourself.
Take the Risk and Make Money – Buy into Giles Quarter.
Create Something Significant For the World.
♦
Saba (+599) 416 . 2777
Emails:  Albert@sabaislandproperties.com  or 

Michael@sabaislandproperties.com

♦
With heartfelt gratitude we thank many people who helped us know Giles Quarter
and shared many gorgeous photos of Saba.
CNN – Donna Hassell (Entrepreneur) – Will Johnson (Historian) – Malachy Multimedia N.V. –
Stanley Peterson (Ross Construction) – Cece Pinette (Saba Island Services/Photographer) –
Chaz Sin (Writer/Photographer) – Jay A. Stearns (Photographer) –
Kai Wulf (Saba Park Manager/Photographer)