Eve Marie's Cottage – Spacious Great BUY – *Exclusive Agents* – Albert & Michael – Saba Island Properties
$250,000/Euros
Lot Area: 340 Sq. M Bedrooms: 1 Bathrooms: 1
– Spacious and Convenient – Windwardside – Saban Cottage For Sale –
Eve Marie's Cottage was totally renovated a few years back, and hasn't lost a bit of its traditional Saban charm. It just got better!
The joy of living here is the location and convenience! You don't have to drive anywhere. A five minute walk and you're ready to grocery shop — to sit and relax with your fresh latte and multigrain croissant at 'Bizzy B Bakery' — to pick-up your mail at ICS and visit all the other Windwardside Village shops and restaurants for whatever you want.
You're right across from 'Brigadoon Restaurant' — one of the top dinning spots on the island, so when you don't feel like cooking, just cross the road and enjoy your favorite meal and cocktail. It's an added plus.
♦  ♦
~ This large one (1) bedroom + one (1) bath home has beautiful ocean and hillside views and
privacy from your back deck and bedroom with enough land to garden or…
to further expand into a second bedroom or… even add a pool
~ Lots of closet and storage space – kitchen, bathroom and bedroom
~ The kitchen has also been updated along with adjoining laundry room
~ Fully furnished too!
The asking price is totally affordable ~ 250,000 

Euros
♦
Don't let this opportunity pass you by.
Eve Marie's Cottage is a top piece of property for the wise investor who wants…
to live in the Caribbean full time, on a gorgeous and safe island or…
vacation for a few weeks each year in your own home and then — rent it out for added income
to the many tourists, hikers and divers who come to Saba.
♦  ♦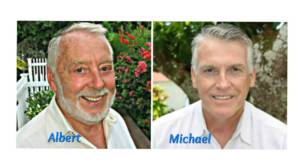 Saba (+599) . 416 . 2777 / USA +1 . 631 . 604 . 4435 / Skype: saba.island.properties
Email: 

Albert@sabaislandproperties.com  or  Michael@sabaislandproperties.com