Champagne Cottage – For Sale – *Exclusive Agents* – Albert & Michael – Saba Island Properties – (+599) 416 – 2777
$1,950,000
*Champagne Cottage – A Celebration of Fine Living*


♦



One of the great luxury homes of Saba and the Caribbean




♦



Spacious – Tasteful – Comfortable – Profound Privacy – Generous Land – Heavenly Views All Around




♦



Main House + Guest House + Garage + Key Shaped Swimming Pool




♦



Everything you could want in an elegant home on 3.2 acres of gated privacy



* $1,950,000.00 USD *


(Sold furnished… just outside of Windwardside Village)
♦ Owner Financing Available ♦
---
The front gates lead you down a long private driveway through abundant green plantings and
grassy hillsides to the parking area, guest cottage, and double arch, wooden doorway
welcoming you to Champagne Cottage — The home of your dreams.
Every inch of Champagne Cottage has been conceived with love and craftsmanship.
Custom made glass kitchen cabinets – Granite counter tops
– Original antique pine floors – Stone fire place and
Over-sized white, oval bath tub – black, granite bathroom sinks.
You'll be constantly amazed at the beauty of this home.
♦ Your Main House ♦
Two (2) Bedrooms – air-conditioned – with private baths and individual entrances
Great Room – Pool sunroom / Living room / Dining room / Kitchen all with vaulted, wooden beamed ceilings and
the original, clear, yellow pine floors in the dining and living room area
Full Kitchen – Wolf: electric oven + 5 hob gas range + extractor
Frigidaire double door freezer / refrigerator
Separate Sub-Zero refrigerator + freezer drawers
Microwave, Full set Le Creuset cookware *Original historic Saban kitchen hearth, still in place
Stereo, TV, DVD, Wi-Fi,
Dry Room closet with dehumidifier

Ceiling fans throughout the house + air-conditionin

g in bedrooms
The home was completed in 2010
♦ Your 

Guest House

 ♦
One (1) 0pen bedroom/living area + air-conditioning + bath with shower + sink + toilet
Kitchen wall unit with full size refrigerator + double sink + cook top
Covered Porch and more breathtaking views
♦ Your Added Assets ♦
Four (4) large, fresh water cisterns
Pool shed with washer + dryer + bathroom toilet + sink
Napoleon outdoor gas grill
SDMO diesel generator with John Deere heavy duty engine
Screens on nearly all Andersen windows and doors
Roll down metal hurricane shutters
Gated property (entire yard is enclosed by chain-link fence)
Banana trees, oranges, papayas, avocados, passion fruit, lemons, limes, almonds, pineapples
♦   ♦
Creating a home on Saba was in the hearts of the owners and they happily told us why:
"We absolutely love the privacy, the luxury, the space. the peace and quiet of our home away from home. We renovated the cottage to be our little piece of paradise. It's built to be our home and therefore has everything we need in order to make us feel comfortable, spoiled and peaceful.
It's a luxurious retreat.
We felt it was appropriate to name our home after our favorite drink and fitting for the king of drinks to celebrate the 'Unspoiled Queen' Saba.
Sunset is our favorite time of day, when we have the opportunity to watch the sun set over 'the whale' every evening. [the rock formation in the shape of a whale across from the end of the pool]. The climate at that time of day is perfect (not too hot, not too cold), the island breeze is divine coming off the ocean. It's very peaceful as the islanders go home for the evening and with a lovely cool glass of champagne in our hands, you can watch the sun and all the wildlife go to bed. Very tranquil!
There's so much we love about Saba — the fact that it is not inundated with cruise ships, does not have casinos, is not horribly busy… it's a little piece of paradise in a crazy world. Unspoiled by commercialism or tourism. If you want to come to the island and dive and hike you can. If you want eat and drink you can. If you want to watch the busy humming birds and caribs you can or… simply rest with a good book and a glass of something chilly. Saba is one of the only places we felt we could relax the moment we landed on the island. It became our retreat for many years."
♦ ♦ ♦
Don't Miss Out On This Investment! It's a Money Maker!
  Champagne Cottage can easily become a 'Luxurious Lifestyle Retreat' or 'Vacation Rental' for additional income.
Offering yoga classes, healthy cooking classes, meditation, coaching, exercising, diving, hiking +++
It's a total upscale location ready to go with just a bit of good marketing.
Saba and Champagne Cottage are the exclusive products people yearn for!

A place to live a vibrant healthy lifestyle, in the heart of nature, connecting with what matters most in life. 
 Champagne Cottage is your immediate opportunity to reset the direction of your life.
It's a gateway to change… to be your very best self and then… to only get better!
♦
We're honored to be the exclusive agents for this incomparable home…
Champagne Cottage – The Very Best in Luxury on Saba!
♦   

♦ 

 ♦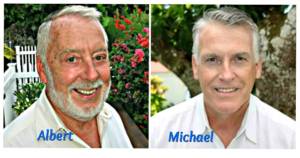 Saba (+599) 416 . 2777 
Emails: 

Albert@sabaislandproperties.com  or  Michael@sabaislandproperties.com