Carolina Cottage – SOLD! – *Exclusive Agents* – Albert & Michael – Saba Island Properties
Lot Area: 905 square meters Bedrooms: 2 Bathrooms: 2 1/2
~ Live Immediately in Caribbean Comfort and Beauty ~
Carolina Cottage – located in the Troy Hill section of Saba – is all about comfort and sheer natural beauty.
From the moment you step out of your car you're surrounded by the teeming green plant life of Saba – spectacular high hills – rich blue Caribbean sea and sky – and the signature red roofed buildings of The Bottom, our capital on Saba.
What a cyclorama of

nature

, perfectly painted all the way around to live with every… single… day!
Carolina Cottage is quality.  It's cachet is in its quiet, simple spectacle – resting high up on the face of Troy Hill Mountain the entire property is wide open to Saba's beauty both inside the house and out. You're right in the heart of Saba… with all her constant splendor.
Two story home
Sold Furnished
Two (2) bedrooms – 2 1/2 baths
Upper and lower balconies
Fully fitted kitchen and open dining space – inside and out
Modern outdoor propane grill
Ample laundry room

Ceiling fans –

no air-conditioning
TV, DVD, Stereo, with iPod dock, Wi-Fi
Pool – inground + concrete with 30,000 gallons of water
Two (2) cisterns for the house = 20,000 gallons fresh rain water
+ 3rd cistern by the pool = 10,000 gallons fresh rain water (approximately 30,000 gallons total)
905 square meters of land
Off street parking are

Excellent for short term vacation rental (added stream of income)
Carolina Cottage has been totally refurbished and scrupulously well cared for from the tropical gardens and generous sun-lounging terraces to the large fresh-water swimming pool that *makes* the villa.
Troy Hill is one of the coveted neighborhoods on Saba, surrounded by million dollar estates, and just a few minutes away from The Bottom and the convenience of the town's shopping area.
What Albert & Michael love most about Carolina Cottage is the privacy and openness –
'You're alone but open to a vast panorama of land and sea. You turn the key, walk in and feel right at home. Everything you want is here. That's what makes for the instant sense of comfort and style. It's refreshing. Invigorating. Clean lines and precision so you're able to appreciate the organic and natural beauty of Saba. How intuitive and practical. The owners have lovingly built a home you can relax into instantly. That's exceptional and it's what distinguishes Carolina Cottage from other homes… easy, unpretentious luxury… repose, pleasure… deep quiet bliss.'
The owners told us this:
'We were sailors who enjoyed all the islands! When we decided to add a home in the Caribbean, we looked extensively… We came for a weekend, saw the property and the next week we owned it… As sailors, the best description I have of our home is that at 4 o'clock everyday you like to be moored up — I can sit on my pool deck and have the view and not rock… the town below is like a fairyland… the beauty of the homes and the total friendliness of the interesting neighbors immediately made our minds up.
I suppose we would all love for people to actually "see" the beauty of Saba. It is such a splendid surprise and no written information truly lets you "see" unless you come to Saba.'
Carolina Cottage is simply the most natural choice for you to start living your life
in the comfort and beauty of the Caribbean… 'Nothing could be finer…' 
♦
Contact

Albert & Michael

– SABA Island Properties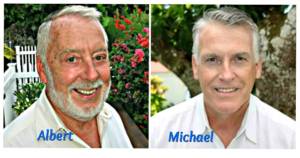 Saba (+599) 416 . 2777 
Email:  Albert@SabaIslandProperties.com  or  Michael@SabaIslandProperties.com
♦
[Carolina Cottage is also available as a Vacation Rental – Please click on this link for details]