Anne's Cottage – SOLD! – *Exclusive Agents*- Albert & Michael – Saba Island Properties
Bedrooms: 2 Bathrooms: 1
A Saba Rarity – Windwardside Village Cottage Available!
Thrive in true Saban comfort and convenience living in  ~ Anne's Cottage ~
(in the heart of Windwardside Village)
An Exclusive Opportunity!
Seldom do these special homes come on the market.
Anne's Cottage is one of the last up For Sale.
Two (2) Bedrooms

One (1) Bath (shower only)

New Kitchen

Spacious Living Room

Fully Furnished

Refreshing Breezes and Prime Water Views

439 square meters of land
Cistern = 5,700 gallons
You won't ever have to get into your car. Just walk out your front door and in five minutes you're at a variety of restaurants, good grocery stores and a bounty of delicious fresh coffees, teas and scrumptious home baked treats at 'Bizzy B' in Breadline Plaza.
The cottage has been carefully updated by a master Saban craftsman, so instantly you're living in modern, fresh surroundings complemented by the warmth of natural wood and with the added possibility of growth — expanding the size of your home or even putting in a swimming pool.
The living space opens into a traditional Saban front porch surrounded by other charming red roofed Saban Cottages and… exquisite island views of land and sea. It's your entire front yard! In your life daily in a most extraordinary way.
The owner shared this with us:
'I truly love the peacefulness and friendliness of the island.
I get such a warm welcome when I visit. I think I have more friends on Saba than anywhere else.
Saba is unique, unlike most other Caribbean islands and very safe.
I love waking up to sunrise and a view of Mount Scenery…
sitting on the deck for coffee, able to see the ocean and catch the breeze…
I truly believe that anyone who owns property on Saba and lives there for a while will fall in love with the island and Sabans.'
We agree 100 percent!

The quality of life on Saba is pretty wonderful.

It's why we opened SABA Island Properties – enabling you as a home owner, land owner, renter or visitor to experience the many lovely pleasures of living on Saba.
Anne's Cottage ~ An Chance To Open the Door to a Marvelous Life Experience
All you have to do is move in!
That's turn key exclusivity… freedom… peace… great joy!
(And – A money maker with a long term rental property history)
♦  ♦
Please call or email – Albert & Michael – Saba Island Properties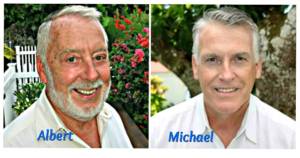 Saba (+599) . 416 . 2777
Emails:  Albert@sabaislandproperties.com  or  Michael@sabaislandproperties.com