New Beginnings – Albert & Michael – Saba Island Properties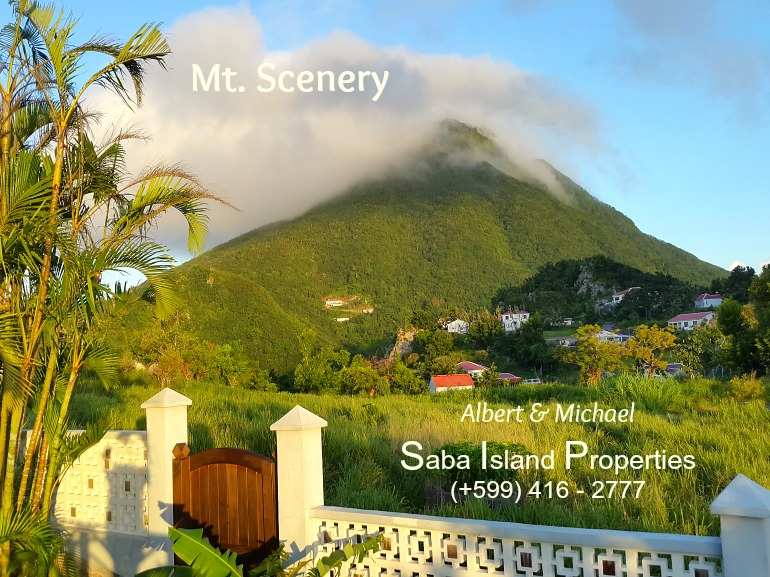 It's a new year and that usually encourages people to think about making changes. Trying new things. Creating new ways of thinking and working. Looking at yourself carefully and seeing what you want for your life so you can take action to create the kind of self you'll be happy with all the time and that includes how you want to be with family, friends, relationships, your work and business. New beginnings are exciting.
We did that 6 years ago
Ben Baker of 'YOUR BRAND Marketing' once told Michael – "You understand what it's like to move from one of the largest metropolitan areas in the USA, if not the world, to an island that can almost fit inside Central Park."
We moved to the Caribbean island of Saba because we wanted a better quality of life than what we had in New York City, where we lived and worked for over 40 years! Can you imagine?
We wanted a simpler life. To get out of the rat race. To remove stress, competition and the drive for power. To stop paying high taxes and to always be warm! (No more freezing temps with snow.)
We instantly loved Saba with its rugged, lush green landscape, beautiful climate and astounishing views! Saba wasn't a tourist trap. No mammoth cruise ships with continuous crowds. No casinos. Hardly any beaches. It had good restaurants and grocery stores. Friendly people. It was affordable and truly safe. We'd discovered a place that met so many of our hopes and dreams and before we left, after two weeks visiting, we bought a piece of land because we knew we were going to live here.
Then we rented a cottage for a year and went back and forth to Saba to learn more about the different places you could live – Windwardside – The Bottom – St. Johns – Upper and Lower Hell's Gate. Eventually we ended up renovating a house on Booby Hill, Windwardside and moved our car, belongings and precious dog Tulla to Saba. Then we became residents and even opened a real estate business. We had been carefully studying what would be a good business to run. What would work on Saba, all year round, and with the support of many local Saban's, their trust and confidence that we could sell their land and homes, we opened Saba Island Properties.
It's been quite an experience living here. Something we've never regretted and continually benefit from.
We're expats on Saba
It's a tremendous advantage for our business being expats because it tells you we've lived through the process of moving to a foreign land and all the details and emotions that go with it. Dreams, ambitions, doubts, fears, plans. We're absolutely able to help other people with similar ideas about changing their lives, investing, retiring, buying land or houses or renting. People count on our solid, Saba life experiences to help them decide this vital question — Is the Caribbean island of Saba right for me?
Is a 5 mile island with one road and about 2,000 people big enough for me?
Can I get to Saba easily?
Can I afford living here?
What about health benefits?
Taxes?
What's the real cost of buying a home or building from scratch?
Will I have enough to do or will I be bored?
Will people accept me in the community and will I feel I really belong?
How do I become a resident?
Can I get a job on Saba?
How can I open and run a business?
All great questions. We've got the answers to lots of them and after 6 years here we're still extremely happy.
We took the leap and made a new beginning in January 2012. Maybe you'll do the same. Maybe this is your time for a new beginning. New wishes. New promises. Maybe Saba is perfectly right for you because you're ready to change your life. Living a better way that has you feel — 'This is truly me. This is what I want and have been yearning to do for myself and my loved ones. A new place to call home.'
You only get one shot at living life fully so why not be as happy as you can possibly be!
Come and take a good look at Saba
Visit and test the Caribbean lifestyle. You can meet other people who love Saba, who visit often, who own homes here and rent and keep coming back and then you'll actually experience living in a new place and new way. New beginnings for you.
♦   ♦   ♦
Saba (+599) 416 . 2777 / USA +1 . 631 . 604 . 4435 / Skype: saba.island.properties.com
Emails:  Albert@sabaislandproperties.com  or  Michael@sabaislandproperties.com
Take a look at what people say about our work