Make Saba Your 'Private Club' – Albert & Michael – Saba Island Properties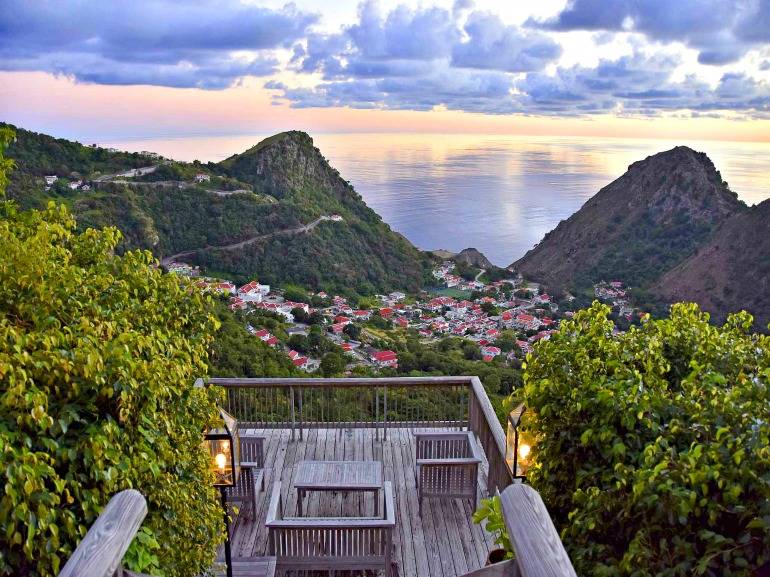 Saba is unforgetable — stunning beauty, easy to get to, safe, affordable, with friendly people.
Like 'A Private Club' where you feel you belong and are respected.
People like us search the world for places like Saba. It's exclusive without being snobbish or only for the affluent. A place where you can be
'a connoisseur of life.' Living as you choose without pretense or fear. Appreciating the basic goods of life. That's what people want. That's Saba.
People who discover Saba keep coming back because Saba feels like home.
They rent homes from us year after year and talk with us about living on Saba and investing. Perhaps to retire or to make a significant life change. Buying land or a home. Even opening a business for their future — looking to pass something meaningful along to family or friends.
Take a look at this endorsement from Andrew and Laurie Wright — Brighton, Wisconsin and you'll see why they return so often and why Saba is really exclusive for so many other people. (Thank you Laurie and Andy… for seeing how much we love our work and Saba.)
♦  ♦
"Saba an island or private club? Forget 'Mustique' this is real!
Ok, I've been quiet too long about my private club, Saba that I share with 1300 of my new closest friends… Anyone that lives in a small town, a suburb, a private gated community or in a condo etc. cannot have the amenities that this bespoke location has. It has a utopian element that we all search for. Here it is right in front of your eyes in Saba. The short list is that there is no unemployment, health care for all, a place to live affordably, a place where everyone knows you and is pleasant even if they disagree with you, which leads to little or no crime. They even SWEEP the streets and I mean with a broom and shovel. And best of all it's a Tropical Island with the suns warmth, tropical breezes, fabulous dining, world class diving and yes in this day of Zika — no mosquitoes!
So how would you go about creating this and then how would you pay for this?
The easy answer is fly on down and book a room or better yet a house.
We first started our trips to Saba over 25 years ago staying at the Queen's Gardens Hotel (very nice) and more recently at the
Haiku House (over the top… literally).
When we stayed at the Haiku House we meet the unbelievable team of Michael & Albert who manage the functions of the house, along with having just about every property on the island that is for sale or rent available at their real estate company SABA ISLAND PROPERTIES.
There (again literally) is nothing they can't do. Construction, Design (Albert is the Guru of Design and making the impossible come to life), Logistics, and making you feel Relaxed and Important (Michael is master of this one). They listen intently and remember your thoughts like an elephant. They epitomize the work ethic that we used to see. They represent all that Saba has to offer. We recently had to cancel all of our travel plans for this past winter and stay in the frozen north. The first thing we did once we could travel is go to Saba and have dinner with Albert & Michael and catch up.
I cannot say enough great things about this duo, other than to say that if you are fortunate enough to visit your private club Saba, make sure you look up these two as they could easily trump your best concierge." – Andrew & Laurie Wright
♦   ♦   ♦
Saba is something special. For seekers and passionate individuals. No persuasion is needed. 
Saba is not for everyone but…

it might be for you.
Saba (+599) 416 . 2777 / USA +1 . 631 . 604 . 4435 . Skype: saba.island.properties
Emails:  Albert@sabaislandproperties.com  or  Michael@sabaislandproperties.com