Hurricane Irma and Choices – Albert & Michael – Saba Island Properties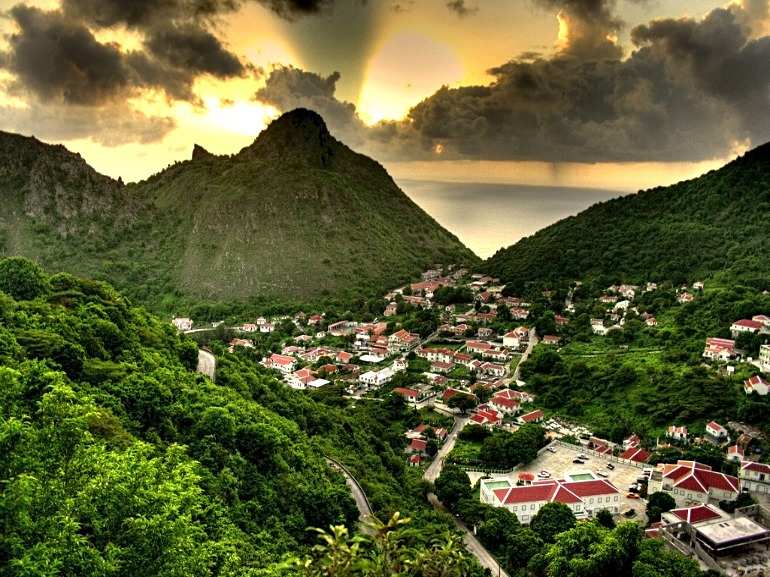 We're delighted to say this article was published by Arianna Huffington at Thrive Global.
Enjoy the read and please pass it along to all your friends and social connections. Thanks!
♦  ♦
The Spirit of Saba 
"Our human compassion binds us one to another – not in pity or patronizingly, but as human beings
who have learnt how to turn our common suffering into hope for the future." – Nelson Mandela
We feel tremendous gratitude for surviving the brutality of Hurricane Irma and Maria. Several of our neighboring islands were violently damaged and our deep compassion and active help goes out to them continuously. We fully thank Saba's government officials, organizations, businesses and individual people for all they are doing to renew and strengthen the island of Saba. They're doing amazing, heartfelt work.
Damage can be repaired and things replaced but life is so precious.
So many people from around the world are reaching out to us in emails and phone calls to see how the people of Saba are doing; how their families, homes and properties fared through the storms. Visitors who know and love Saba. People who come every year staying in hotels and renting homes. Property owners we work with who absolutely love the extraordinary spirit of Saba. It's that vital life force, built into people who have experienced the lifestyle and community of Saba that makes it such a special place.
And with all that has happened to the Caribbean, people are not cancelling their trips to Saba. They're still planning to return —
new inquires and bookings are coming in. Some people even tried to get to Saba from Sweden to help care for the island. They wrote:
"Hope you are all right. Have been following everything from afar…
The response from the island confirms what we like about Saba.
We like the resilience and sense of community… We see the struggle and the effects on nature.
We really want to reach the island and help out. Our best wishes go out to Saba and its people.
The hurricane has not deterred us."  
That's the hope and positive story of Saba. It's an ongoing tribute to the island's spirit and how, "Our human compassion binds us one to another… " Saba is bouncing back and the deepest reason is the love Sabans have for their island and each other.
What is the world telling us?
The hurricanes make us think so deeply about humanity. We see two forces in the world. One is nature. Something we have no control over. The other is human nature and the choices man makes. That we do have control over.
There are the natural disasters of hurricane Harvey in Texas. Flooding. Wild fires in the western United States. The earth quake in Mexico. Hurricane Irma and Maria in the Caribbean, Florida and Puerto Rico. What is the world telling us? What can we learn?
Then there's the nature of man, his mind and feelings, and how he uses it for good or evil. Just look at history and then, think about what is currently happening with the United States and North Korea. The terrifying possibility of war, even nuclear war.
World leaders are forming alliances. Russia, China, North Korea, the United States, Germany, Iran, Israel, Saudi Arabia.
How will their choices affect our world and the vulnerability of life?
How can we become equal members and friends of different cultures and nations?
What choice do you have?
All kinds of things bring people together regardless of life-styles, religion or race. We all live in communities and have families and friends but we also live on the same planet. We are all connected. That's the important idea to focus on — choosing and creating the future you want to see and live in.
No matter what life hands us we can each make decisions from our hearts. Will you live with generosity, peace, kindness, giving or with selfishness, superiority, hatred? One choice is certainly greater than the other.
The purpose of our work at Saba Island Properties is understanding what people want. Being deeply occupied with the needs of others. It's an emotional connection to people. Listening to what they hope for as they visit our island and we talk about finding them a home on Saba. It might be about renting a cottage or villa just for a week but it's still about the essential feeling of being at home. And as we say this, we're keenly aware of our beloved Caribbean and other places in the world where people lost their homes and businesses and loved ones. Immigrants and refugees – people exactly like you and me – who are forced to leave their country and are desperately trying to find a place in the world where they can build a new life and live in peace.
If you put yourself in their shoes — what must they feel?
We remember the September 11th attacks. What it did to our lives, New York, the USA and the world. We lived and worked in New York City on that day and afterwards. So many people were killed and hurt. We lived in fear every day for months. We watched our businesses go down the tubes and spent most of our time talking to people. Encouraging others and ourselves that we would be alright and wondering – how did this happen to the United States of America and New York City?
So when we say we will get through the storms we mean it. Pulling together. Being resourceful. Making the best choices we can and helping others, these are some of the crucial life purposes we have that came out of great tragedy and hardship.
Saba and people around the world are showing up — not giving up
People are facing tough times and financial adversity because of nature and man's choices but they're not giving up. Every one of us has lived through some kind of emotional, money or physical challenge and, we got through it. That's the spirit we're talking about; what's running Saba and so many of our Caribbean neighbors at this time. The life giving choices people are making.
Remember the music video – U.S.A For Africa – We Are the World – where artists came together to end hunger in Africa. It's something we love and its been ringing in our minds. There was also a remake 25 years later for Haiti and the hurricane that devastated the island.
Below are the video and words to the song. Please — watch it and see what it does to you.
What does it say about the choices you're making today?
There comes a time when we heed a certain call
When the world must come together as one
There are people dying
And it's time to lend a hand to life
The greatest gift of all
We can't go on pretending day by day
That someone somewhere will soon make a change
We're all a part of God's great big family
And the truth, you know,
Love is all we need
We are the world,
We are the children
We are the ones who make a brighter day
So, let's start giving
There's a choice we're making
We're saving our own lives
It's true we'll make a better day
Just you and me
Send them your heart so they'll know that someone cares
And their lives will be stronger and free
As God has shown us by turning stone to bread
And so we all must lend a helping hand
We are the world,
We are the children
We are the ones who make a brighter day
So, let's start giving
There's a choice we're making
We're saving our own lives
It's true we'll make a better day
Just you and me
When you're down and out
There seems no hope at all
But if you just believe
There's no way we can fall
Well, well, well
Let's realize that a change can only come
When we stand together as one
We are the world,
We are the children
We are the ones who make a brighter day
So, let's start giving…
There's a choice we're making
We're saving our own lives
It's true we'll make a better day
Just you and me
♦  ♦
♦
*Expats… 

helping to create the future of Saba*
Saba (+599) 416 . 2777 / USA +1 . 631 . 604 . 4435 / Skype: saba.island.properties
Emails:  Albert@sabaislandproperties.com  or  Michael@sabaislneproperties.com