Come Home to Nature – Albert & Michael – Saba Island Properties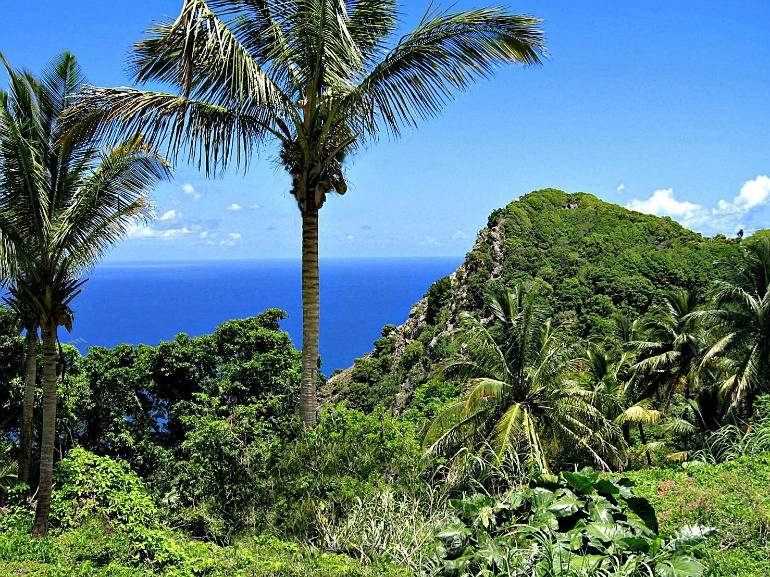 We're honored that our article was published in Arianna Huntington's — 'Thrive Global'.
(A behavior change media and technology company intent on changing how we live and work
by how we take control of or lives.) Enjoy the read and please share it too. Thanks – Albert & Michael
♦   ♦   ♦
When you come to Saba you're immersed in Nature. You feel alive with its stunning, natural beauty. Your senses, heart and entire being fill with wonder and respect. And mostly… you feel at home with yourself and the world. Comfortable, invigorated, joyful.
Nature is an awakening. You find your way in nature and that means becoming a fully awakened human being.
Nature is all around you (even when you live in a city) and connecting with nature is a crucial and rewarding thing. Connecting is as easy as walking outdoors — gazing at the sky — feeling the sun on your face — smelling a flower.
Nature is a force and when you look at nature you also see balance; how it survives and also helps us to survive. If it gets disrupted, even destroyed, it heals. Doesn't that happen to us too? Aren't we all fragile and strong at once? Resilient, wild, abundant, resourceful, growing, changing, sustaining, nurturing, protecting, giving. What can you learn from nature?
If your environment is good, healthy, positive then your life benefits, as well as the lives of the people around you. Harmony and well being are part of nature's precious gifts and it should be our innate and profound obligation to honor and protect nature as we live in it.
The world is in flux
More and more people are looking for a safe haven in a world that is changing and often, these days, can be frightening. Our deepest needs are not to manage the world; not to run nature for our personal profit but to care for it, to give back what we receive, to be generous not stingy, not to carelessly sell it off, overbuild and corrupt.
A home in nature (be it a small parcel of land, the state you live in or an entire country) is something we all can think about. The choices we make about how we treat the earth, creates the future for us all. People coming home to nature return to the beginnings of life. They see the essentials and values of life thriving and how it effects our families, relationships, jobs, the quality of daily living. That's pretty important.
Why did we move here from New York City?
We wanted a better way of living and we found a home on Saba. We connected immediately to the natural splendor and lifestyle and we knew in our hearts that living here, day by day, would make for deep happiness. We'd be restored. Get back to what really matters in life.
Brilliant sunrises and sunsets. Moonlight and countless heavenly stars. Looking at the vast, shining, blue Caribbean sea right outside your door. Hummingbirds and soaring red tailed hawks. Intense colors of bougainvillea, haliconia. Mountains and blue, blue sky with lines of billowy white clouds. The sounds of mourning doves and baby goats. Rain and wind across your face. The sudden scent of jasmin, the peppery taste of wild cilantro, homemade ice tea with fresh mint. Lush, green wilderness and rocky landscapes — a near perfect climate — friendly community — safety… Saba is a private club. It offers us nothing but dynamic tranquility. Mind, body and soul. This is home.
Nature always tells the truth
The intense and loving feeling of coming home to nature reminds us of so many environmentalist, artists and authors who are passionate about nature; richly influenced and changed by nature and so we present — 12 quotations — the truth about nature, which universally stands for the best thing in man and helps answer many questions present in the world today and also in ourselves.
1. After you have exhausted what there is in business, politics, conviviality, and so on – have found that none of these finally satisfy, or permanently wear – what remains? Nature remains; to bring out from their torpid recesses, the affinities of a man or woman with the open air, the trees, fields, the changes of seasons — the sun by day and the stars of heaven by night. – Walt Whitman – American poet and humanist
♦
2. The real wealth of the Nation lies in the resources of the earth — soil, water, forests, minerals, and wildlife… Their administration is not properly, and cannot be, a matter of politics. – Rachel Carson – Marine biologist and author
♦
3. Look deep into nature, and then you will understand everything better. – Albert Einstein – German born physicist
♦
4. In every walk with nature one receives far more than he seeks. – John Muir – Scottish American naturalist
♦
5. Study nature, love nature, stay close to nature. It will never fail you. – Frank Lloyd Wright – Architect
♦
6. Nature always wears the colors of the spirit. – Ralph Waldo Emerson – Poet and philosopher
♦
7. Nature does not hurry, yet everything is accomplished. – Lao Tzu – Chinese philosopher
♦
8. The sea, once it casts its spell, holds one in its net of wonder forever. – Jacques Yves Cousteau – French conservationist and explorer
♦
9. I felt my lungs inflate with the onrush of scenery—air, mountains, trees, people. I thought, 'This is what it is to be happy.'
– Sylvia Plath – American poet
♦
10. The family is one of nature's masterpieces. – George Santayana – Spanish author and philosopher
♦
11. I went to the woods because I wished to live deliberately, to front only the essential facts of life, and see if I could not learn what it had to teach, and not, when I came to die, discover that I had not lived. – Henry David Thoreau – American philosopher and essayist
♦ 
You awaken when you come home to nature… feeling truly your self
Nature connects to the basic human needs we all are born with and deserve — home, love, safety, belonging some place and living the very best life we can.
The health of the earth, caring for humanity and your self are the most benevolent choices you can make.
Let's keep it that way. Let's keep and enhance respect and love for home and nature.
12. Nature is not a place to visit. It is home. – Gary Snyder – Poet and American man of letters
♦   ♦   ♦
Saba (+599) 416 . 2777 / USA +1 . 631 . 604 . 4435 / Skype: saba.island.properties
Emails:  Albert@sabaislandproperties.com  or  Michael@sabaislandproperties.com