An 8 Point Foolproof Plan – See If Saba's Right For You – Albert & Michael – Saba Island Properties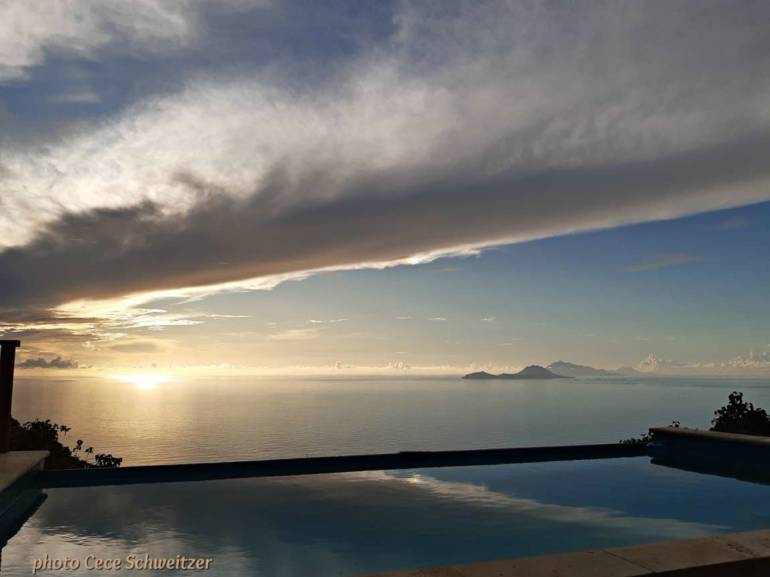 If you know Saba is right for you (you're already buying land or a home after a short visit) that's perfectly understandable and great. Congratulations! WooHoo! Go… Go… Go for it. We did the same thing — immediately bought property after visiting for just two weeks.
We knew we were coming back and, as fast as possible. So — skip this plan and pass it along to other people you think will adore Saba the way you do. Otherwise… start planning and plotting now:
1. Do your research
Google:  Saba Dutch Caribbean and start reading. Find out all you can about this exclusive Caribbean island.
Look at videos and photos of Saba
Read magazine articles –

CNN Travel

— Newsweek — Forbes
Learn about Saba's excellent hotels — restaurants — rental cottages — villas
Check out TripAdvisor
Visit the

Saba Tourist Bureau

website and discover conservation, hiking, diving… 3 things Saba is famous for
We have a good friend (once a client) who did just that. Studied Saba for 2 years and selected a property to buy, telling us:

"If it looks as good in person as the photos do on your website it's

mine!"

 
It did.
2. Come visit
Book a flight to St. Maarten /St. Martin and fly over to Saba on Winair (15 minutes) for one of the top surprises of your life or come by boat
Discover the island

– 5 square miles, one impressive, well maintained road and about 2,000 people
Get to know the different villages on Saba and climates
Become part of the Saba community and its stunning

nature

3. Go to other islands
Come to Saba first or save it for last but…

you must see what life is like on other islands

Visit St. Maarten, St. Barths, Nevis, St. Kits, Statia, Bonaire, Dominica 
Keep a journal and take photos
Live in the culture –  meet the people – feel the safety – study the cost of living
We have friends who live and work on Saba for years and keep traveling around but always say:
"There is no place like Saba. It stands alone. We're really happy here."
4. Go Home 
Unpack, settle back into your comfortable life and see how Saba feels from a distance.
What value

does Saba have for you?
What do you like or not like about Saba?
Would you be happy living on an island?
How do you think you'll do with a change of location — a change of climate — a change of culture?
What's your feasible budget?
Time Line? Now – 3 – 5 – 10 years?
What are your hesitations?
What are you most afraid of?
And… if you're sold on Saba, love it unconditionally, why?
Change is not easy but if you know what you want, don't delay. Go and get it! Don't waste your daydreams. Don't settle. Take a risk.
Commit to fully living your life. People make the choice to change all the time. To change everything. We did. Use us for courage and wisdom and start walking (or running) along that new path.
5. Come back to Saba and live as if…
Visit several times more and live as if you are a resident of Saba
Stay longer than usual… a month or more
Become part of the community
Talk to other expats and locals and see what they say about Saba
Rent steadily and in different locations before you invest in land or

a home

Bring your family and friends and see how Saba connects with them?
Don't get pressured into buying anything until you find exactly what you want
6.  Make an achievable plan 
If Saba is where you want to be then make a plan that works. One with a Beginning – Middle – End. Moving from A —> to B —> to C.
Charter your course. Make a map. Turn on your personal GPS and see what your gut instinct says and where it leads you but —
make sure it's an achievable plan and hold yourself accountable, every step of the way, until you arrive at your destination. 
Come back every single year to visit and be part of

the Tribes of Saba

Stay with friends, book your

favorite hotel and room

or

rent a house

you love and live there regularly 
Invest in

a piece of land

and build a new home
Buy a house (

antique cottage

or

a villa estate

) 
Become a Saba resident and see what the benefits are
Get a job and work on Saba
Open your own business
We have clients waiting for the right piece of land to come on the market. They're Saba Insiders.
"Definitely Windwardside, with a view of the water and Mt. Scenery. It's a 3 year plan, so there's time.
We know Saba is for us and we trust that our dream property will appear."
7. Talk to us 
We loved Saba right away and knew on the second day, driving around and getting into the heart of the land and scenery, that we were going to live here permanently and did just that in 2011… living our lives with no regret.
The calmness and incredible, natural beauty are two of the main reasons we love Saba.
Saba is restorative. It can replenish your entire being; renew energy and creativity; make you feel you're back to being your true self.
The person you always were but maybe lost sight of and will rediscover on Saba. 
We're extremely grateful to have wonderful friends here on Saba. People we love and trust, who are helpful, reliable, giving, kind and fun; adding to the beauty and quality of life we live here. We often say — we have a better social life here than we had in New York City.
We also have stories to share with you about moving, living and working on Saba. Please — count on us to help you any way we can.
We'll tell you the truth about Saba. That's a promise.
8. One more thing
Saba and its people are not racing around, begging masses of people to show up. Saba is a unique and elite place to visit and live.
Like a private club. Not your standard Caribbean island retreat. Either it's right for you or it's not. But it's a place you'll always remember and if Saba has stolen you're heart and you can't get it out of your mind, we fully understand and encourage you to make that yearning dream of yours a reality... so it won't be a dream anymore.
*And… if you think you can't afford it — You Are Wrong!
Why not buy and share home with friend?  Go halves or thirds with 2 or 3 other people. All purchase it together.
Make it a time share… A co-op… Joint ownership. You'll book your time to visit throughout the year and 
live in luxury and comfort by contributing with other people to own and care for a home like… Villa Fairview.
It's a real, practical possibility.
*We know people who are interested in doing this and we're happy to make an introduction and create that opportunity for you.
(We'll also arrange the paperwork and then manage it for you.)
There it is… our foolproof 8 point plan to see – Is Saba is right for you?
♦   ♦   ♦
Saba (+599) 416 . 2777 
Emails:  Albert@sabaislandproperties.com  or  Michael@sabaislandproperties.com