6 Sensational Reasons You Should Live on SABA! – Albert & Michael – Saba Island Properties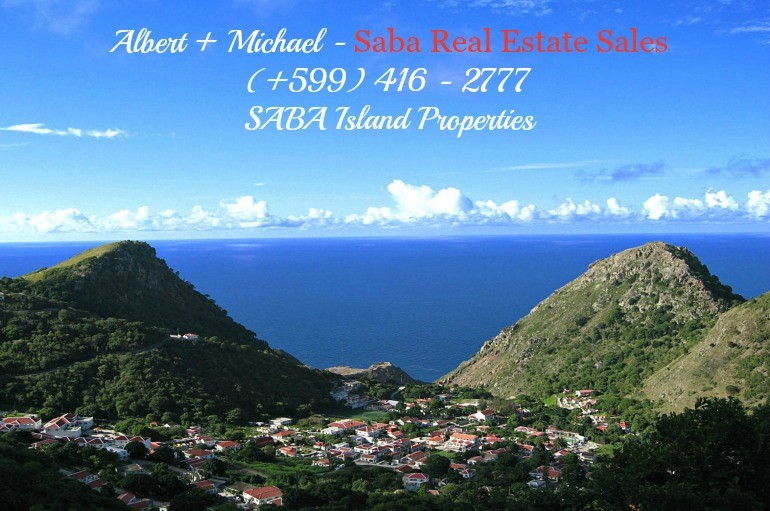 1. The Quality of Life
2. The Sheer Beauty
3. The Friendly People
4. The Safety
5. The Amazing Climate
6. The Convenience
Saba gets to you! This gorgeous Caribbean island gets deep inside of you right from the start.
Even if you only visit for one day you'll always remember Saba.
Everything we dreamed about for our future we found here on Saba
We lived and worked in New York City for over 40 years and when we thought about retiring, continuing to live our lives with adventure and freedom, retirement communities in Florida, Arizona, California even Canada just weren't in the cards. But… living on an island in the Caribbean was an enticing idea!
We know lots of other people who also fell in love with the remarkable lifestyle and ambiance of Saba and moved here fast to live and work — running restaurants, dive shops, hotels and specialty businesses.
The quality of life on Saba is superb — easy and fun with an uncommon balance of peace, activity, joy, positive energy and well-being of spirit. Saba inherently promotes all of that and ultimately spoils you.
Living on Saba is possible and when you live on Saba you come to love your life more than you ever imagined possible.
Saba is B E A U T I F U L !
– Lush, green plant life.
– Rugged, dramatic terrain.
– Knock out views.
– Magnificent sunrises and sunsets against endless Caribbean azure seas.
– Nearly every day Saba basks in infinite sunshine and clear blue skies.
– Saba is world famous for its deep sea diving and well known for its hiking and trails. And with the hilly topography you'll definitely get plenty of exercise and become part of the amazing ecological systems present on island.
– The climate is warm and wonderful. And because of the mountainous landscape and water all around, Saba is blessed with trade winds that consistently provide fresh air and cool night breezes for great sleeping, all year round.
– It's safe on Saba. After all, it's a five square mile island with one road and 1,990 people, including the students studying to be doctors at the Saba University Medical School.
– The people of Saba are known for their friendly attitude and helpfulness, as well as for their acceptance of various ethnic, cultural and religious beliefs, making it much easier for a visitor or a new resident to adapt and live within Saba's comunity. With Saba's affiliation with the Netherlands, the island also recognizes and performs same-sex marriages.
– If you want privacy or to be in the social mix, the choice is easily yours. You'll build friendships, come to count on people; sharing with friends and neighbors, growing, changing and being inspired. We often say – we have a better social life here than we ever had in New York City.
– Saba is convenient to get to from any place in the world. Fly directly into St. Maarten and you're 12 minutes away from Saba by plane. And, if you want more activity dash back to St. Maarten or move to St. Barths, Anguilla, Dominica… the whole world is available to you.
Make a Saba plan
After renovating two homes here on Saba we decided to open a real estate business: SABA Island Properties – Sales of Land + Homes – Renovations + Design – Property Management + Landscaping + more.
We had no idea that we'd be back in business this way. Using all our experience and skills in business, design, customer service and sales. It was a natural. See what people are saying about our work.
As real estate agents we talk to lots of people who plan to live here full time or part time and we help them figure out how they can make it work for their budget and time line. It's a prime opportunity since there are no real estate taxes on primary residences and no profit tax on real estate sales on Saba.
People in their 40's and 50's and 60's on up are investing in their future here on Saba. They're making plans for a permanent home where they can rent it out for additional income and also come to Saba during the winter months to relax. They're buying land or villa estates, renovating an historic Saban cottage or building a new home for their children and grandchildren. Saba is an awesome place to raise your family.
Retirement is not about getting old, withdrawing and ending your career. It's about continuing to live… progressing… going on… continuing to be of service and giving back with purpose.
People of retirement age all around the world are reinventing themselves, opening new businesses, going after their dreams and creating new ones. They don't just want to exist. They want to live!
Live strong — Live well – Live happy! This can be your future at any age!
Why not live it in a beautiful, affordable place where you can be yourself and thrive? If you want something different… something better than what the present notion of retirement has in mind for you, come to Saba and see for yourself.
Saba is an island open to life. It will capture your heart and you'll definitely revamp your future.
Come and live in the Splendor of Saba
♦  ♦
Saba (+599) 416 . 2777 / USA +1 . 631 . 604 . 4435 / Skype: saba.island.properties