Villa Fairview – Luxury Vacation Rental – Albert & Michael – Saba Island Properties
Bedrooms: 3 Bathrooms: 2 Garage: 1
~ A Hidden Treasure – Exclusive Vacation Rental ~
Situated on Booby Hill – 1,000 feet above sea level – Villa Fairview is surrounded by lush Caribbean vegetation
and spellbinding water and mountain views.
   A generous living – dining room combination opens up to a large wrap-around porch which is ideal for outdoor living and entertaining…
come rain or come shine.
When you live in the Caribbean you want to be outside as much as possible and Villa Fairview was designed with that purpose in mind.
– Three (3) bedrooms
– Two (2) with air conditioning
– Two (2) baths (one in the main house, one below in the apartment)
– Your guests will have their own living space away from the main house in the 650 sq. ft. comfortable, downstairs studio apartment. One great advantage for privacy for you, family and guests.
– The pool & gazebo area are truly superb! Fully private with glorious sea and island vistas.
One of the enticing… hard to resist… WOW… features of this special property.
Easy walking distance to Windwardside Village for shopping and dining
Once you've rented Villa Fairview you'll keep returning year after year.
It's one of the most desirable and popular rental properties on Saba .
♦
RATES
The year round rental rate (4 night minimum)
1 – 6 people  per night  =  $450 USD
1 – 6 people  per week =  $2,900 USD
Holidays –> to New Year's (December 20, 2022 –> January 3, 2023) the rent is $3,950 per week.
– 5% island tax is included in the prices
– Non-Smokers only
– Pets not allowed
– 50% deposit required to hold your booking reservation
– Balance due within thirty (30) days before your stay
– Payment may be made in US dollars or Euros
Cancellation Policy
1. If greater than 120 days prior to arrival date = full refund
2. If between 90 and 120 days prior to arrival date refund less 25% of total rent
3. If between 45 and 90 days prior to arrival date refund less 50% of total rent
4. If less than 45 days prior to arrival date = no refund, but can apply to re-booking if within one calendar year
♦   ♦
Please call  –

Albert & Michael

– SABA Island Properties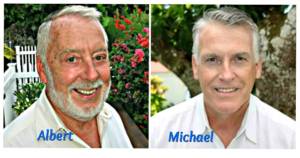 ♦
Saba (+599) . 416 . 2777 
Email: 

Albert@SabaIslandProperties.com  or  Michael@SabaIslandProperties.com