The Gate House – For Sale – Albert & Michael – *Exclusive Agents* – Saba Island Properties
$650,000
Bedrooms: 7 Bathrooms: 7
One of the Prominent Properties of Saba
~ The Best of Its Kind ~
Every property we handle has value — but sometimes one stands out in the culture and history of Saba.
The Gate House Hotel / Restaurant is precisely that.
The name evokes nostalgia… a place with happy associations and affection by many people on Saba
and others, from around the world, who for years experienced and adored the hospitality, cuisine and wine.


♦


Yes. The Gate House is For Sale.

♦
Located on The Sulphur Mine Road in Lower Hells Gate
1,420 Square Meters of Land

♦
$650,000.00 USD
---
---
Two (2) story concrete structure – tin roof – built in 1988
Working Diesel Generator 
New Fuse Panel
Two (2) Cisterns (11,000 and 9,000 gallons)
Garage + Upper Outside Terrace
Rooftop Pool (Needs refurbishing – 26.9 square meters)
Air-conditioning in all rooms
Parking for 2 – 3 cars
Island views of St. Maarten, Anguilla, St. Barths, Statia
Upper Floor (Entire second story rented for residential living)
Three (3) Bedrooms (See diagram – Rooms 1, 2 and 3rd bedroom labeled 'corridor')
Three (3) Bathrooms
Large living room / dining room (see diagram – Room 3)
Kitchen – double sink + professional 6 flame gas range + refrigerator + freezer + dishwasher
All tiled floors on this level
Large outside patio deck
Lower Floor
Four (4) Bedrooms
(Each with a bathroom – See diagram – Apartment 3, 4, 5, 6… all can be entered by a circular footpath in the front garden
and two (2) of the bedrooms have small kitchens)
Four (4) separate bathrooms (tiled floors)
Kitchens have tiled floors (the rest of the floors, on this level, are wooden planks)
Small laundry room with facilities for connecting a washer + dry
♦  ♦
The owners have this story to tell you:
'After living on four different continents and upon our two sons' graduation from college, we decided to leave Boston and to resettle in the sun, and enjoy a very early retirement. We arrived on Saba at the beginning of July 2000 and were greeted by a taxi driver asking the reason of our trip. We told him that we were interested in buying the then closed Gate House Hotel.
The next day while strolling in Windwardside we realized that a lot of locals were already talking about the French couple who were going to buy and reopen the Gate House. What a great local community! This sense of belonging is still there.
The Gate House struck us as a fine place to run a small hotel/restaurant with an astonishing view from the terrace, over the airport and the neighboring islands, and far from the "trepid life" of the two main villages.
In March, unfortunately not every year, it is amazing to watch a pod of whales breaching, puffing and diving near the airport on their migration from their breeding grounds in Dominica to Cape Cod in Massachusetts (where we had a place for nearly 25 years.)
The Gate House was built in late 80's as one large apartment upstairs and two small ones downstairs. In early 90's downstairs was converted into 4 bedrooms, and upstairs into 2 bedrooms and a small restaurant, and the name Gate House was given to this new hotel on the island.
When we closed the hotel/restaurant (2010) we kept renting 4 to 6 bedrooms to medical students, with shared living, dining room and kitchen.
We like so much Saba and this side of the island that we plan to get older and older in the villa just below the Gate House. Our favorite time of the day is just before sundown when the shadow of Mount Scenery is cast over the sea as far as Statia… a glass of good wine on hand… relaxing in the breeze of the trade winds… a perfect prelude to a good night's sleep… surrounded by the call of the tree-frogs.'
♦  ♦
More and more people are being seduced by Saba.
Investing fast in properties and businesses to secure their place on this Caribbean Island paradise.

The Gate House is a symbol of success and living well.
The something new you're looking for and Saba wants back again.
If you're people like us you do things like this. You leap at this kind of opportunity.
Renovating and reopening your own Bed & Breakfast with your personal style and generosity.
Building a new reputation with your love, hard work and purpose.
Acre by acre Saba is one of the most scenic places on earth.
It will stop you in your tracks to look and look and marvel at the wonder of Saba. Land, Sea and Sky.
The Gate House matters. Make it yours!
♦   ♦   ♦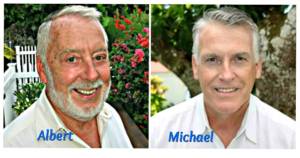 Saba (+599) 416 . 2777 
Emails:  Albert@sabaislandproperties.com  or  Michael@sabaislandproperties.co

m