'Serenity Hill' – Mt. Scenery Road Lot – For Sale – Albert & Michael – Saba Island Properties
$158,000
This picturesque location with beautiful views of Windwardside Village and the sea offers
 A single road front lot of 1,602 square meters –

Lot # 4

– can be bought for

♦
$158,000.00 USD
   ∗
Here's what the owners told us when met one Sunday morning to see and walk this striking property with its lush green vegetation,
peaceful mood and dramatic, appealing views:
"We bought the land because it was serene, private, with great views and close to Windwardside.
It's a gentle slope. Easy to build on. No traffic. No long driveway needed.
We cleared the boundaries for the Kadaster to take all the measurements. Can you imagine…
a city girl with a machete in hand actually loving clearing bushes, trees etc. So proud of myself.
We love Saba because it is a real community where everyone looks out for each other.
You can always count on the community and neighbors to be there for you.
It doesn't matter what nationality, what color you are everyone watches out… you'll always be cared for."
∗  ∗  ∗
This road access, highly buildable lot is in demand because of  location –
close to Windwardside. It awaits your creative dreams.
Make your offer and see how quickly you'll fit in and feel right at home on 'Serenity Hill'.
♦  ♦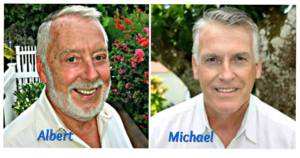 Saba (+599) 416 . 2777
Emails: Albert@sabaislandproperties.com  or  Michael@sabaislandproperties.com