Well's Bay Land For Sale – Albert & Michael *Exclusive Agents* – Saba Island Properties
$220,000
We're excited to present

– Well's Bay Land For Sale
~ One of the must beautiful places on earth ~
 Primitive… P

ure… Exhilarating…
– Expansive and Intimate at Once –
– Magnificent Ocean and Land Vistas –
– Unbounded, Deep Connection to

Nature

–
Stand anywhere you like along the Well's Bay road and you'll be instantaneously immersed in
the dynamic openness, freedom, peace, vitality and incomparable splendor of Well's Bay.

Image what you'll feel like living here!
♦
*1,308 square meters >> $220,000.00 USD*
*Concrete driveway frame already installed*
*Easy road access for all utilities*
*5 minute drive to the capital of Saba – The Bottom*
♦    

♦ 

  ♦
The owners have been immensely generous talking about their property, sharing photos and 
 there's no better way we know for you to learn about this exclusive piece of Well's Bay land than to hear it directly from them:
"The view is spectacular! I know most views on Saba are spectacular but I just love being able to see the ocean down around Diamond Rock and Torrens Point. Being able to see the boats that come to the moorings at Ladder Bay and Well's Bay also adds to that. The location is out of the way and makes it easy for you to disconnect and get peace of mind and yet… only a 5 minute drive to the capital.
'Tranquil' is the one word we'd use to describe it best and, early morning is our favorite time, right when it starts to get light. As you watch you see the different colors brighten up around you. It's also nice and cool right up to almost 10 am until Mount Scenery is no longer tall enough to keep the sun hidden.
I grew up on Saba and I think when you grow up here and live here without leaving for some time you don't realize how special and unique this tiny island in the ocean is. After going away to school and coming back is when I realized that we really do live in paradise which many of us take for granted. It makes you appreciate it just that much more and makes you take the time to take it all in; the amazing nature and views around the island.
This piece of property has a lot of meaning and pride to it. I always wanted my little piece of Saba and this was the first piece I purchased.
Saba is and always will be home to me."
♦  ♦
The owners express one of our greatest human needs — finding a place you can call

home

.
Well's Bay and Saba might be home for you.
 Property in Well's Bay is in high demand and this exceptional parcel of land won't be up 'For Sale' long.
Take action now and call us with your offer. What a chance for change and greater life adventure.
If you know in your heart that living on a Caribbean island is something you long for,
dream about in vivid detail and pictures in your mind then… you belong here.
Living the life you really want to live. Fulfilling your dream!
♦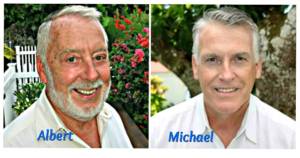 Saba (+599) 416 . 2777 
Emails: 

Albert@sabaislandproperties.com  or  Michael@sabaislandproperties.com
[See what other people feel about living and working on Saba]