House on the Hill – For Sale – Albert & Michael – *Exclusive Agents* – Saba Island Properties (+599) 416 . 2777
$980,000
House on the Hill
~ Windwardside – Booby Hill

~


(near The Level + walking distance to Windwardside)
Two Story Elegant Home
with Internal Grand Staircase and High Ceilings
 758 Square Meters of Land
~ $980,000 USD ~

---
---

Why spend time building a home to match your Caribbean island dream
when you can own this spectacular villa right now,
in the most desirable location on Saba – Windwardside, Booby Hill.
The owners' attention and respect for detail on a grand scale make for this spacious
and warm home's beauty, comfort, peace and privacy.
The architecture – tiles – colors – furnishings – honor the living space inside and
connect you with the magnificent sweeping outside views of the ocean – the hills of Saba –
Windwardside Village –

Mount Scenery

– the cliffs and sea surrounding the island of Saba –
brilliant sunrises and sunsets… rainbows… divine moonlight… and magical star filled heavens.
You have everything you need, all done with quality materials and craftsmanship
for gracious, happy living and entertaining.
There is nothing quite like –

House on the Hill

– 3,200 square feet.




It will fill you with awe.
♦  ♦  ♦
– Three Bedrooms – large private bathrooms – primary bathroom = shower and tub + others shower only
– Privacy for Guest Quarters and Homeowner
– Ceiling Fans throughout the house
– Two Powder Rooms
– Two Additional Bathrooms – one with shower/1st level + one near workroom + outside shower
– Full Dining Room
– Large Living Room
– Double French Doors add to the luxury of this home
– Glass Solarium – at primary bedroom with additional entrances from outside surround balcony
– Fully Equipped Kitchen – refrigerator, dishwasher, electric stove
– Fireplace
– Washer + Dryer
– Gas Grill
– Two Outside Covered Open Balcony Seating Areas
– A Top Tier Terracotta Tiled Lookout Deck
– Three Fresh Water Cisterns = 85,000 gallons (two = 24,000 gallons each + one = 37,000 gallons)
– Two Water Pumps
– Three Water Heaters (two = 50 gallons each + one = 30 gallons)
– Workroom
– Garage + Electric Roll-Up Door
– Metal Storm Shutters
– Gated Concrete Driveway Entrance + parking for two or more cars
– Beautiful Local Saba Artisan Stone Walls throughout the property
– Meticulously Maintained
– Yes – Room to Build a Pool
– Sold Furnished
♦ ♦
The owners have lived on Saba for 38 years – an inspiring tribute to Saba.
They generously shared some of their story with us:
"We first got a glimpse of Saba from the air as we searched for a Caribbean condo.
It was not an easy or successful search with all the islands we visited.
We were intrigued by the small island of Saba, and once we spent just a short time here,
we were completely taken and enchanted by this unique place and
decided to put down roots right away.
We bought land on the very first day and made the choice to build.
Building in those days was not easy; sending in all the materials from the outside was quite a problem.
That was 38 years ago, and we have enjoyed every year we have lived here –
doing a lot of hiking – climbing Mount Scenery (many times over) – befriending the Saban people –
and loving the house itself – the spaciousness and gorgeous views –
and especially the sunsets from the terrace room.
Even on rainy days, we have not felt closed in, and the space was always great for parties and dinners.
Now it's time to pass the property on to new owners,
and we are sure they will enjoy and love the house as much as we have."
♦
We look forward to speaking with you about this remarkable opportunity
to own this stately home on the Caribbean island of Saba.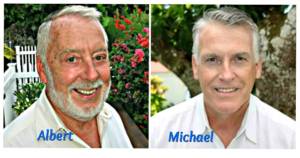 Saba (+599) 416 – 2777
Emails:  Albert@sabaislandproperties.com  or  Michael@sabaislandproperties.com
Read Why People Choose to Work with Us