Hawksview House – Upper Hell's Gate – For Sale – Albert & Michael *Exclusive Agents* – Saba Island Properties
$699,000
Bedrooms: 4 Bathrooms: 2
~Superb Property and Best Value on Saba ~
2,874 square meters of land
2,500 square feet of house
Pristine Condition




Walk In – Do Nothing and Live Exceptionally Well!




♦


Enticing Price ~ $699,000.00 USD
---
---
Hawksview House
♦ Sensational Upper Hell's Gate Home For Sale ♦
– Lasting Privacy in a Dramatic and Peaceful Location –
– Lush landscaped gardens… surrounded by the fresh, green hills of

Saba

and…
uninterrupted Blue Caribbean Ocean views –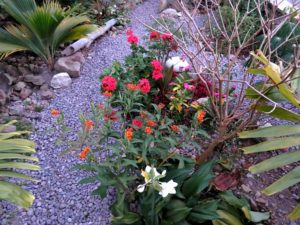 – Island views of St. Martin, Statia, Nevis, St. Kitts & Montserrat –
– Everything you dream about in owning a Caribbean home –
♦ 

♦ 

♦
 Two Story Home


– A Prime Opportunity to Create Your Own Bed & Breakfast –
– Four (4) Spacious Bedrooms (2 downstairs + 2 upstairs)
– Two (2) Baths (with shower – one on each floor)
– Ceiling Fans 
– Generous Outside Patio Deck 
– Two (2) Cisterns (20,000 gallons each – one fresh water + one grey water)
– Gas Generator
– Window Screens and Wooden Shutters
– Large Equipment Storage Space
– Full Wide Concrete Driveway (from street to house with ample parking and turn around access)
– Open Kitchen / Dining Room / Living Room
The climate of Saba is amazing! Warm, even cool breezes steadily surround our gem of an island making for comfortable daily living and sleeping weather where AC is seldom needed. (Hawksview has no air-conditioning units but it is ready made for easy installation, if you wish, at your cost.)
♦  ♦
The owners generously shared the love of their home with us:
"The house is called Hawksview because of the nesting red tailed hawks that we watch from our patio,
flying high; rising from the cliffs below up to Mount Scenery.
Hawksview is complete. Comfortable. Spacious, safe, strong, private. You are one with nature.
We harvest bananas, papayas, passion fruit and lemons from our own garden.
We visited many, many other islands and instantly fell in love with Saba and now…
we just want someone else to love the property as much as we do.
Loving the serenity, safety, quiet and peace of the early morning…
to view the sunrise and the gorgeous views of other islands…
feeling and breathing the clean air… to be at home in beauty."
♦
Now Is the Time to Make Your Dream a Reality
Call Us and Make Your Offer!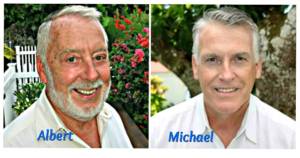 Saba (+599) 416 . 2777
Emails:  Albert@sabaislandproperties.com  or  Michael@sabaislandproperties.com